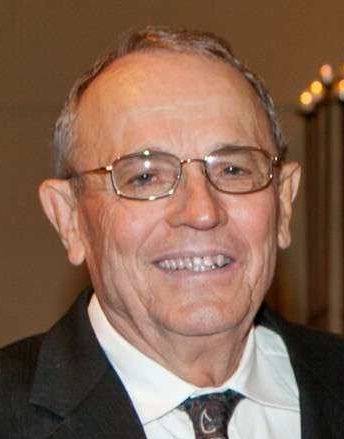 December 1, 1935 – October 15, 2023
Kenneth Welkener of San Antonio, TX, passed away on Sunday, October 15, 2023 at the age of 87, surrounded by his family.  Funeral services will be held at 11:00 AM, Saturday, October 28, 2023 at Eckols Funeral Home in Kenedy, TX with Pastor Daniel Ruiz presiding with a short graveside service after at the Pawnee Cemetery.  Visitation will be held one hour prior to the service on Saturday at the funeral home.  Lunch and fellowship will follow at Candlewood Suites (304 Business Park Dr, Kenedy, TX 78119).  A memorial service will be held at a later date at Faith Lutheran Church in San Antonio, TX.
Kenneth Charles Welkener was born on December 1, 1935 in Pawnee, TX, the son of Alfred Gotlieb Welkener and Cora Bertha (Zamzow) Welkener. He was baptized and confirmed at Elim Lutheran Church. Kenneth graduated from Pawnee High School, home of the Fighting Indians. He played quarterback on the 6-man football team and loved going rabbit hunting after games with his friends. After graduating in 1954, and a senior trip to Mexico with classmates, Kenneth enrolled at Texas A&M University in College Station but after 2 weeks of missing his sweetheart and long-time girlfriend Joycie Marguerite Voges, the homesick college boy hitchhiked home to chart a different course for his life. After doing odd jobs around the Bee County area he began working, doing carpentry work for a family friend in San Antonio. He would work all week and come home to Pawnee for weekends with Joycie. They became engaged in late 1954 and were married April 2, 1955 and made their home in San Antonio. Kenneth started work with Turner Concrete around 1958 and worked for ~42 years seeing Turner become McDonough Brothers, Redland Worth Corporation, Redland and then Martin Marietta Materials. He loved playing dominoes with anyone and his favorite card game, skat, with all of his German friends. After retiring from Martin Marietta, Kenneth enjoyed working at the farm and hunting. He enjoyed bird and deer hunting and loved making homemade smoked venison sausage in the backyard smokehouse and sharing "nickels" cut from the links. He also loved working, plowing, shredding and tinkering at the farm. Kenneth will be remembered for his strong Christian family values and hard work ethic. He and Joycie's frugal lifestyle is a depression era example of how to spend less than you make. Kenneth is survived by his loving wife of 68 years, Joycie Welkener of San Antonio, TX; children Scott (Joann) Welkener of Helotes TX, Kenton (Olivia) Welkener of Allen, TX, Wade (Pam) Welkener of Fulshear, TX; grandchildren Nicole Welkener, Melissa (Chris) Vanlandingham, Craig (Diana) Welkener, John (Jazel) Welkener, Vivian (Eric) Sexton, Abigail (Enoc) Medina, Timothy (Toria) Welkener, Olivia Joyce Welkener, Joseph (Bri) Welkener, Corrie (Brian) Jensen, Daniel Welkener, Randy Welkener, Kendra Welkener, Madison (Sam) Frederes, Victoria Welkener, Gabrielle Welkener, Sophia Welkener; great-grandchildren Brady Waggoner, Matthew Sexton, Clark Sexton, Zoe Sexton, Kenzi Welkener, Viviana Welkener, Lewis Welkener,Titus Welkener, Elena Medina, Josiah Welkener and Jack Vanlandingham; sister-in-law Wilma "Pokie" Brabec; many nieces, nephews, cousins, relatives, and friends.