Mary Alice May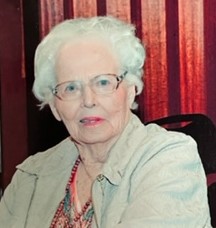 Mary Alice May, a lifelong resident of Kenedy, TX, entered eternal rest at her home, November 3, 2022 at 3:06am, at the age of 92.  Mary Alice was born and raised in Kenedy, TX., October 2, 1930, the daughter of Sam A. and Lois Hail May.  Mary Alice enjoyed her life in Kenedy and on February 12, 1949, married Paul K. May.  They raised eight wonderful children and were married for 64 years.
            Mary Alice could always be seen at school anytime treats and parties were needed.  Even though she didn't participate in sports, she and Paul drove far and wide to see their children and grandchildren participate.  Teams in Kenedy and numerous other schools and universities couldn't have had a better cheerleader. She also followed her children to many horseshows and parardes.
            Mary Alice held many offices with the Chamber of Commerce and was selected Citizen of the Year.  If you needed a parade organized, she and Carolyn MacDonald were your girls.  She was also an original member of the Progressive Study Club, along with the Kenedy Cemetery Association, Kenedy Historical Society, First Bapist Church and recognized by the Kenedy Masonic Lodge.
            Mary Alice and Paul followed his parents in the restaurant business as owners of Mays and with their daughters, Candace and Melanie in Barth's Restaurant.  You could always find her behind the counter or "holding court" at the big table at Barth's.
            Mary Alice is survived by her seven children, Sharon Rinehart (Mike) of Red Rock, TX; Paul May (Patty) of Canyon Lake, TX; Candace May of Kenedy; Lyndale Gray (Farrell) of Roanoke, TX; Elizabeth Miller (Dave) of Sunset, SC; Melanie Ferguson (Tim) of Kenedy, TX; and James May of Kenedy, TX.
            Mary Alice is also survived by her beloved grandchildren, Leslie May, Meredith Fisherling, Mattison May, Kelsie Schirmann, Austin Gray, Haley Grant, Elizabeth Liberty, Steven Liberty, Colby May, Sheldon May, Kalli Ebrom, Mackenzi Ferguson, and Courtnie Ferguson, along with their amazing spouses.  She is also survived by eleven great-grandchildren, Beverly May, and cousin Barbara May Waelder.  She is also survived by her sister Cynthia May Roberson of Leakey, TX.
            Mary Alice is preceded in death by her husband, Paul K. May, parents, Sam A. May and Lois Hail May, her brother Sam May and her daughter Carol Liberty.
            The May family would also like to extend our heartfelt thanks to our staff at Barth's.  Their friendship and dedication to Mary Alice is greatly appreciated.  We would also like to thank the staff, especially Shelbey and Sergio, at New Century Hospice in Victoria, TX, along with Dr. Rayford Mitchell.  Mary Alice was also blessed to have some wonderful caregivers that played a big part in her care and well-being over the last several years.  Their dedication and love was a blessing to the family.  They are Patricia Arnold, Beatrice Morales, Leticia Ramos, Elisa Guevara, Amy Gross, Linda Gonzales, and Sandy Santos.
           
Family Visitation will be held Monday, November 7, 2022, from 9am to 11am, with Funeral Services beginning at 11am in the Eckols Funeral Home Chapel with the Rev. Walter Hill, III officiating. Interment will follow in the Kenedy Cemetery, in Kenedy, TX.
Serving as Pallbearers: Dave Miller, Tim Ferguson, Mike Rinehart, Casey Ebrom, Coby May, Sheldon May, Mattison May and Austin Gray.
Memorial Donations may be made to the Kenedy Cemetery Association.