Robert Leo Underbrink, Jr.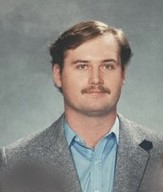 Robert Leo Underbrink, Jr. of Kenedy, Texas was born on August 17, 1965 in Karnes City, Texas to Robert Leo Underbrink, Sr. and Mary Louise Ford Unberbrink. He passed away on June 19, 2022 in Kenedy, Texas at the age of 56.
Robby, as he was called, graduated from Kenedy High School in 1983. He went to work at Karnes Electric. Several years later he decided to go to college and received a degree in education. Robby was an avid hunter and fisherman. He loved the outdoors. He and his father always had a boat. They had many fishing trips to Baffin Bay, Falcon Lake and Choke Canyon. Robby loved to hunt for geese. He and a co-worker friend from his time at Karnes Electric would get together and hunt. Cooking, grilling and barbecueing was a love of his. He loved to try new recipes and try them out on his family. He taught for several years before he left teaching to help take care of his father who had to be put on dialysis. After his father passed away and his mother had health issues, he also was a care giver for her.
Robby is preceded in death by his father, Robert Leo Underbrink, Sr. He is survived by his mother, Mary Louise Underbrink, and two sisters Brenda Lea Underbrink, and Joy (Patrick) Tam, two nieces and nephews: Patrick Wayne Tam, Jr., Crystal Lynn Tam, Paige Nicole Tam, and Kevin Michael Tam and numerous cousins, aunts and uncles.
Robby will be greatly missed by his family. He was always looking out for his family, putting them before himself. We have many precious memories that we will always treasure.
Visitation will be Saturday, June 25, 2022 at the Eckols Chapel from 12:00 Noon to 1:30 PM,  with Funeral Service's to begin at 1:30 PM with Randy Witte officiating.  Interment will be in the Choate Cemetery in Choate, TX.