Dennis Ray Fenner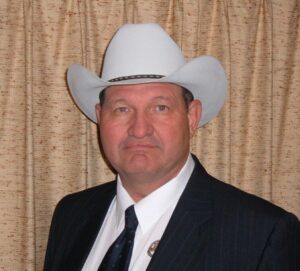 Dennis Ray Fenner was born December 13, 1949 to Elroy & Ardanella Blaschke Fenner in Kenedy, TX.  He attended Kenedy High School and graduated in 1968.  He received his Bachelors in Criminal Justice from Central Texas College in Killeen, TX.  Dennis was a life long member of the Good Shepherd Lutheran Church in Kenedy, TX.  He and Linda Green Fenner were married in the Good Shepherd Lutheran Church on August 2, 1969 by Pastor Menke.  They were married nearly 53 years.  Dennis and Linda were blessed with one son, Kevin Fenner, one grandson, Chase Fenner and two granddaughters, Autumn and Chelsie.
Dennis chose the field of Law Enforcement for his career and was very dedicated.  His Law Enforcement career spanned 49-1/2 years, beginning in 1972 as a reserve officer for the Karnes County Sheriff Dept.  He then enlisted in the Army as Military Police, then promoted to Military Police Investigation, then a CID Agent in the Criminal Investigation Division of the Army.  When he chose to leave the Army for Civilian Law Enforcement, he went to work for the Karnes County Sheriff's Dept. as Chief Deputy.  His career included serving as Kenedy's Police Chief for 12 years, an Investigation for the State, and his favorite position was Constable Prct. #1 for the last 20 years, which he retired from on December 31, 2021.
Dennis was preceded in death by his parents Elroy and Ardanella Blaschke Fenner and his mother-in-law and father-in-law, Walter and Louise Green.  He was also preceded in death by his maternal grandparents, Ernest and Analiese Blaschke and his paternal Grandparents, Carl and Ida Fenner and numerous aunts, uncles and cousins.
Survivors include his wife of over 52 years, Linda Green Fenner, his son Kevin Fenner (Debbie), his two brothers Pat Glen Fenner (Mariann) and Roy Lee Fenner.  His grandchildren, Chase Fenner, Autumn and Chelsie Fenner, and numerous aunts, uncles, nieces, nephews and cousins.
Family Visitation will be held Friday, May 20, 2022 in the Eckols Chapel from 5:00 PM to 7:00 PM.  Services will be Saturday, May 21, 2022 at 2:00 P.M. at The Good Shepherd Lutheran Church with Pastor Wally Schievelbein officiating.  Interment will follow in the Kenedy Cemetery in Kenedy, TX.
Serving as Pallbearers will be Tim Crow, Eddie Salas, Oscar Garcia, Bil Homeyer, David Theuret, Tom Hailey, Terry Schmidt and Jeff Hahn.