Robert Michael Horne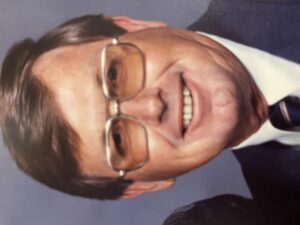 Robert Michael Horne, 83 of Victoria passed away on Tuesday, March 1, 2022 in a local hospital. He was born February 8, 1939 and grew up in Kenedy, he enjoyed hunting throughout his life and had a passion for farming. In his later years, he enjoyed spending time on his land and raising cattle. He worked in many service phases of the oilfield throughout his 61year career with the last 16 years as a drilling and production consultant.
Robert was a fun and caring person who cherished and loved his family and friends. Nothing pleased him more than spending time with his family. He was married to the love of his life, Geri for 65 years. They were devoted and always there for each other.  He was the strength, guide and counselor of his family and he will be dearly missed.
Robert is survived by his wife: Geri, their sons: R. Michael Horne, Jr. (Cheryl) of Sugar Land, and Gary Horne (Tracey) of Kenedy; four grandchildren: Meagan Horne, R. Michael Horne III (Lisa), Ashton Walker, and Justin Horne (Lesley) and two great grandchildren: Sawyer and Silas Walker. He is also survived by two brothers and two sisters: Sam Horne (Shera), Homer Horne (Paula), Francis Montgomery, and Elizabeth Eddy, and 9 nieces and nephews.
He is preceded in death by his parents Cosby and Julia Horne, two brothers-law: Alton "Monty" Mongomery and Morris Eddy and a niece Marla Nixon.
Visitation will be held on Friday, March 4, 2022 from 5:00p.m. to 7:00p.m. at Eckols Funeral Home.
Visitation will also be held on Saturday, March 5, 2022 at 1:00p.m. at Eckols Chapel with Funeral services beginning promptly at 2:00p.m. Saturday, March 5, 2022 at Eckols Chapel with Rev. La Andriamihaja, M.Div. of Our Savior's Lutheran Church of Victoria officiating.
Interment to follow in Kenedy Cemetery. Pallbearers will be Robert's nephews: Alton J. Montgomery, Keith Horne, Dean Eddy, Dwayne Eddy, Rusty Horne, and Morris Eddy, Jr.
Memorials may be made to: Our Savior's Lutheran Church, 4102 N. Ben Jordan, Victoria, TX 77901, to the MD Anderson Cancer Center, 1515 Holcombe Blvd. Houston , Texas 77030, the Kenedy Cemetery Association or the charity of your choice.
The Horne family would like to thank all the Doctors and Nurse staff at Citizens Medical Center, P.A.M. and MD Anderson Cancer Center for their wonderful care.