Aurora Dora Estrada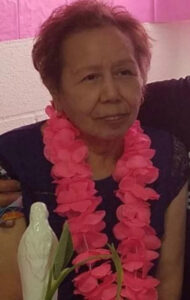 Aurora Dora Estrada of Kenedy, Texas was born on June 16, 1940 to Santiago Estrada and Maria Segura Estrada in Kenedy, Texas  went to be with the Lord on March 2, 2022 at the age of 81. Dora was a member of the Our Lady Queen of Peace Catholic Church. She worked at a Nurses Aide and also was a Nanny to the Stewart Family -owners of Eckols Funeral Home, Inc.
Survivors include her four nieces: Esperanza (Eloy) Zapata of Pearsall, TX, Dora(Speedy) Ruiz of Seguin,TX, Beatrice (Oscar) Martinez of Kenedy,TX, Anna (John) Eldridge of Seguin,TX; three nephews: Juan Granado of Stockdale,TX, Daniel (Yolanda) Ruiz of Seguin, TX, Paul Estrada of Kenedy,TX ; great  niece: Marissa Jaramillo of Kenedy,TX and great nephew: Paul Justice of Kenedy, TX and many other great  nieces and nephews and other relatives.
Visitation will be held on Sunday, March 6, 2022 from 4:00p.m. to 9:00p.m. at Eckols Chapel. Funeral services will be held on Monday, March 7, 2022 at 10:00a.m. at Our Lady Queen of Peace Catholic Church with Rev. Norbert Hermann officiating. Interment in the Loma Alta Cemetery.
Pallbearers: Oscar Martinez, Lloyd Zapata Jr., Alex Maciel, John Eldridge, Rodney Jaramillo, Paul Estrada.