Hugh Walter "Walter" Green Jr.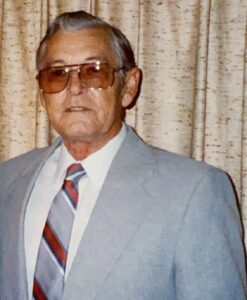 Walter Green Jr. of Kenedy, Texas was born on October 26, 1930 in Kenedy, Texas to Hugh Walter Green Sr. and Ila Sims Green passed away at his residence on March 23, 2022 at the age of 91. Mr. Green graduated from Kenedy High School. He married Mary Louise Angermiller on March 3, 1951 when they were seniors in high school.
He was raised and worked on his parent's dairy farm. In 1954, he and his family moved to San Antonio and he worked in refrigeration and air conditioning. He was also a Dairy Inspector for the San Antonio Metropolitan Health Department. In 1967, he bought a dairy just outside of Kenedy and later sold in 1970. Thereafter in 1970, he went to work for the Kenedy Police Department as a Licensed Texas Peace Officer. In 1973, he served as a Chief Deputy for the Karnes County Sheriffs Office. He later started with the Diamond Shamrock Refinery  (1989-1999) in Three Rivers retiring as Head of Security.
He preceded in death by his beloved wife Mary Louise Angermiller Green; his parents, Ila Sims Green and Hugh Walter Green Sr.; siblings: Virginia "Ginger" Green Copeland  and William Wade Green; sister-in-law: Blanche Green; Brother in law: Robert "Bobby" Allen Copeland Sr. Survivors include his daughter: Linda Green Fenner (Dennis); sons: Hugh Walter Green III and Steven Ray Green (Karissa); grandchildren: Kevin Fenner (Debbie), Colt Green, Jesse Ray Green (Amber), Amy Oliver (Matthew), Jesse Lee Green and Kailee Green; great grandchildren: Chase, Wesley, Carson, Landon, Madison, Ryan, Dustin, Daisy, Anna, Macy, Emery, Reagan; two step great granddaughters: Chelsie and Autumn.
Visitation Sunday, March 27, 2022 from 3:00p.m. to 5:00p.m. at Eckols Chapel.
Funeral services Monday, March 28, 2022 at 2:00p.m. at Eckols Chapel with Rev. Pat Traxler officiating. Interment in the Kenedy Cemetery, Kenedy, Texas. Pallbearers: Kevin Fenner, Colt Green, Jesse Green, Matt Oliver, Pat Fenner, and Robert Copeland.