Leonel "Leo" Valerio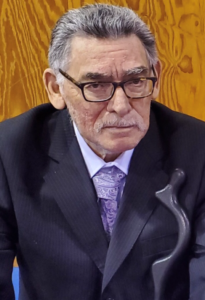 Leonel "Leo" Valerio, Age 71 of Kenedy, TX passed away at home surrounded by his loving family on Thursday, December 2, 2021.  Leo was born on August 30, 1950 in Robstown, TX to the late Jesus and Anita Verdin Valerio.  He married Enedelia Garcia on March 24, 1973 in Dallas, TX, retired from Central Power and Light and his later years in life worked at Kenedy Regional Airport and was of the Christian Faith.  Leo is preceded in death by his parents Jesus and Anita Verdin Valerio.  Leo is survived by his loving wife Enedelia Garcia Valerio of Kenedy; daughters, Pauline Olivia Valerio-Torres and husband Jose of Kenedy, Linda Valerio Means and husband Chris of Lewisville; grandchildren, Brenna Escamilla, Hannah Escamilla, Jaren Escamilla, Leonel Escamilla, Caitriona Means, Scotaidh Means; sister, Maria Nunez and husband Ruben of San Diego; brothers, Alfredo Valerio of La Rosita Ranch, Arturo Valerio and wife Anna of San Diego; beloved friends Isaiah Barreintez, Nicole Shortsleeve and a host of family and friends.  Family Visitation will be held Friday, December 10, 2021 from 5PM to 7PM with a Prayer Service starting at 7PM in the Eckols Funeral Home Chapel.  Funeral Services will be Saturday, December 11, 2021 at 11AM in the Eckols Funeral Home Chapel with the Pastor Alejandro Serna officiating.  Interment will follow in the Sacred Heart Cemetery in Kenedy, TX.  Serving as Pallbearers will be Jose Torres, Chris Means, Isaiah Barrientez, Johnny Escamilla, Enrique Garcia, Alberto Martinez, Roel Nunez, Ruben Nunez.
Donations may be made to Eckols Funeral Home, Inc. or the Michael J. Fox Parkinson's Organization.