Julio Perez Madrigal Sr.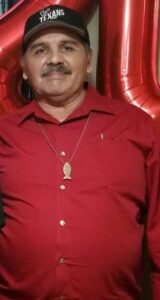 Julio Perez Madrigal Sr. of Houston, TX, passed away the morning of Monday, September 6, 2021 at Memorial Hermann Medical Center. He was  66 years old. He was born  in Runge, Texas, to the late Libario and Guadalupe Madrigal. Julio was retired and was a devoted Christian. He attended Lakewood Church. He loved to preach the Word of God. He loved spending his time with his children and grandchildren, never missing a holiday or birthday's with them. He also loved to go fishing.
He is survived by his three brothers,: Libario Madrigal Jr. of Kenedy, TX, Nabor Madrigal and Jimmy Madrigal of Houston,TX;his four sisters: Rita Rivas of Levelland, TX, Ida Morena of Pasadena, TX ,Olivia De La Garza of Kenedy, TX and Consuelo Madrigal of San Antonio, TX. And his four children : Julio Madrigal Jr, Jennifer Madrigal, Jeremy Madrigal all of Victoria, TX, and Melissa Madrigal and Juan Sauceda of Rosenberg, TX; 11 grandchildren: Juan Nathaniel, Brianna, Adrian, Eric,, Ashlyn Paris, Leo, Julio III (Tres), Abigail, Thomas, Megan, and Juan Jr.
Julio is preceded in death by his father and mother: Libario and Guadalupe Madrigal; brother: Martin Martinez and sister: Margarita Gonzales.  Visitation will be held on Friday, September 17, 2021 at 10:00a.m. with Funeral Services beginning promptly at 11:00a.m. Friday, September 17, 2021 at Eckols Chapel. Interment to follow in Loma Alta Cemetery.
Pallbearers: Julio Madrigal Jr., Jeremy Madrigal, Julio Madrigal III, Thomas Duran, Eric Sauceda, Juan Sauceda, Juan Vasquez.