Juanita Ester Amaya Jacques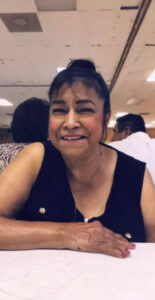 Juanita Ester Amaya Jacques, Age 66 of Kenedy, TX passed away on Sunday, September 12, 2021.  Juanita was born on April 19, 1955 in Choate, TX to the late Juan, Sr. and Angelita Escobedo Amaya. Juanita married Faustino Jacques on November 27, 1976 was a homemaker, loving mother, grandmother, great-grandmother, sister, aunt and of the Christian Faith.  She is preceded in death by her parents, Juan, Sr. and Angelita Escobedo Amaya; grandson, Nicholas Jacques; sisters, Herlinda Tovar, Aurora Dominguez, Maria Escamilla and a brother, Felipe Amaya.  She is survived by loving husband Faustino Jacques of Kenedy; daughters, Patricia Castillo and husband Jerry of Kenedy, Jackie Jacques and Robert Van Biber of Kenedy, Terry Jacques and Martha of Kenedy; sons, Johnny Jacques and wife Stacia of Kenedy, Joseph Jay Jacques of Kenedy; sisters, Inez Amaya of Floresville, Petra Ramirez of Runge; brothers, Juan Amaya of Kenedy, Isidro Amaya of Kenedy, David Amaya of Kenedy, Martin Amaya of San Antonio, Ramon Amaya of Kenedy; grandchildren, Aaron Castillo and wife Miah, Brandon Castillo and wife Madison, Chris Castillo, Jestine Hinojosa, Autumn Hinojosa, Zeke Jacques and wife Victoria, Kaitlin Jacques, Timothy Jacques, Julissa Jacques, Anthony Vasquez, 7 great-grandchildren and numerous extended family member.  Visitation will be held Friday, September 17, 2021 from 2:30 P.M. to 4:00 P.M. with Services beginning at 4:00 P.M. in the Eckols Funeral Home Chapel with Pastor Robert Charles officiating.  Interment will follow in the Kenedy Cemetery in Kenedy, TX.
Serving as Pallbearers: Aaron Castillo, Brandon Castillo, Zeke Jacques, Timothy Jacques, Anthony Vazquez and Chris Castillo.