Gary Wayne "Shaggy Dog" Shaw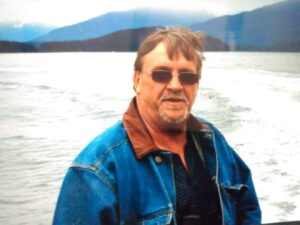 Gary Wayne "Shaggy Dog" Shaw of George West, Texas passed away peacefully with his family by his side on September 15, 2021.  Gary was born on July 18, 1957 in Beeville, Texas to Willie Richard and Hazel Frances (Stuart) Shaw, the youngest of nine children.
He is preceded in death by his parents, sisters: Allene (J.D.) Greer, Marie (Jim) Jennings, Lorraine (Jim) Trybig; brothers: Richard and Walter Shaw; brothers-in-law: Bobby Hale and Richard Harris.
Gary was born and raised in the Pettus, Tuleta area. He graduated from Pettus High School in 1975, where he enjoyed playing sports. He worked in the oilfield and then with both the Beeville and Pettus Independent School districts. He was a member of the First United Methodist Church of Beeville; a member of the Windmill Emmous. He worked numerous Emmous walks and the walk to Shiloam and supported Kairos prison ministry.
Gary married Laura Harris "the love of his life" on July 2, 1994. God gave him a gift for woodworking. Together with Laura, they designed and made mesquite dominoes, unique gifts, crosses and the coveted family reunion trophies. Gary loved to ride his dirt bike, to go fishing and hunting with family and friends. Gary touched many hearts and lives by dressing up as the Easter Bunny, a pop up toaster boy and even as a chicken.
Most of all, he loved spending time with his family and friends. He is survived by his wife Laura of 27 years; his son: Jason Adams;  daughter: Rebecca (Dewey) Roberts; granddaughters: Ashley Roberts and April Roberts; sisters: Mary Steele, Vera Hale and Willie Hackney and sister-in-law: Diane Guidry; brother-in-law: James (Karen) Harris; nieces, nephews, great nieces and nephews; as well as friends he considered as family.
Visitation will be held on Saturday, September 18, 2021 at 2:00p.m. at Eckols Chapel with Funeral Services beginning at 3:00p.m. at Eckols Chapel with Tucker Rackley officiating. (Services to conclude in Chapel). In lieu of flowers, potted plants or ivy's are appreciated.