Ofilia Perez Villarreal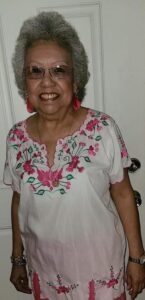 Ofilia "Shiela" Perez Villarreal, Age 85, of Kenedy, passed away on August 24, 2021 in Beeville, TX.  Ofilia was born on June 6, 1936 in Pawnee, TX to the late Seferino Villarreal, Sr. and Hilaria Perez Villarreal.  She was a loving aunt, great-aunt, sister, homemaker, friend to many and a devout member of Our Lady Queen of Peace Catholic Church.  She is preceded in death by her parents, Seferino, Sr. and Hilaria Perez Villarreal; sisters, Romana Villarreal, Jesusita Carvajal; brothers, Seferino Villarreal, Jr., Luciano Villarreal, Jr., Pedro Villarreal, Sr. Jose Villarreal, Sr; nephew, Armando Carvajal.  She is survived by great-niece Domenica DeLosSantos and husband Anthony of Kenedy,, TX, niece, Yolanda Salinas and husband Jesse of Kenedy, TX; great-great nieces and nephews Serena Diaz, Nathan Pacheco, Haven DeLosSantos, and Emma DeLosSantos.  A Holy Rosary will be recited Friday, September 3, 2021 at 2:00 P.M. with Funeral Mass to be Celebrated at 2:30 P.M. at Our Lady Queen of Peace Catholic Church with the Rev. Stanlislaw Marciniak officiating.  Interment will follow in the Sacred Heart Cemetery in Kenedy, TX.
Serving as Pallbearers: A.J. Carvajal,  Henry Villarreal, Danny Villarreal, Eddie Villarreal, Seferino Villarreal, III, Anthony DeLosSantos.