Rotha Nell Blomquist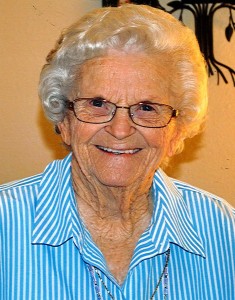 Rotha Nell (Williams) Blomquist passed away peacefully on Sunday, November 5, 2017, in San Antonio, Texas. She was born on April 6, 1930 to parents Edgar L. Williams and Erabel Williams, in Beeville, Texas. She graduated from Pawnee High School in Pawnee, Texas and married her high school sweetheart, Harry L. Blomquist, Jr.  She is survived by her children, Virginia Sue Blomquist and Harry L. Blomquist III, grandchildren Shelly Barrett, Amanda Barrett, Hayley Blomquist and Emily Blomquist, brothers Curtis Williams (Susan) and Darrall Williams (Jean), and many nieces and nephews who loved her dearly.  She was an amazing wife, mother, grandmother, daughter and sister who was loved by many and brought smiles to the faces of all whose lives she touched.  She had a wonderful, full life, traveling all over the world with her late husband Harry, and enthusiastically attending her granddaughters' barrel racing competitions, swim meets, soccer games, piano recitals and everything else they did.  She was a lovely woman who will be greatly missed.
Family Visitation will be held Friday, November 10, 2017 from 7PM to 9PM in the Eckols Funeral Home Chapel. Services will be Saturday, November 11, 2017 at 11AM in the Eckols Funeral Home Chapel with the Rev. Wally Schievelbein officiating.  Interment will follow in the Elim Cemetery in Elim, TX.