Zacarias Cortez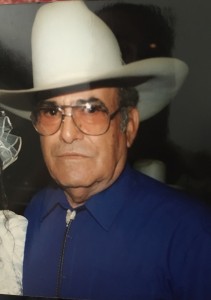 Zacarias Cortez, Age 84 of Kenedy, TX passed away Wednesday, September 13, 2017 in San Antonio, TX. Zacarias was born on November 5, 1932 in Runge, TX to the late Eulogio and Eliza Muniz Cortez. He was a retired mechanic and a member of Our Lady Queen Catholic Church.
He is preceded in death by his wife Ofelia Cruz Cortez; parents, Eulogio and Elisa Muniz Cortez and a brother, Narciso Cortez.
He is survived by his daughters, Esmeralda Cano and husband Joseph of  Beeville, Irene Cortez and husband Ramiro Vega of Kenedy; sons, Armando Cortez and wife Dora Leal of Beeville; sisters, Dora Torres of Runge, Soila Jaramillo of Kenedy, Elva Rivas of San Antonio, Viola Cortez of Kenedy; 17 Grandchildren and 16 Great-Grandchildren.
A Holy Rosary will be recited Sunday, September 17, 2017 at 7PM in the Eckols Funeral Home Chapel. Funeral Mass will be held Monday, September 18, 2017 at 10AM at Our Lady Queen of Peace Catholic Church with the Rev. Norbert Hermann officiating.  Interment will follow in the Runge Cemetery, Runge, TX