Clarence O. Haveman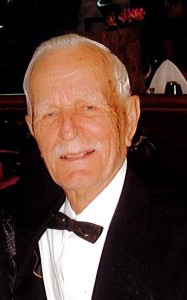 Clarence Otto Haveman, longtime resident of Karnes County, passed away on June 20th, 2017 at the age of 97 years, 7 months and 3 days.  He was born in Oakland, TX on November 17, 1919, to Otto Haveman and Clara Engals Haveman.  In his younger years, Clarence lived in Corpus Christi where he worked as a city bus driver.  In 1942 he met and married Barbara Jean Mauer of Cuero, TX and they made their home in Kenedy, TX.  Clarence retired from Schlumberger, he worked at Karnes County Livestock Exchange, was a Kenedy Volunteer Fireman, coached Little League Baseball, pulled floats in the parades, was on the board of several companies. He was an active member of Hermanson Lodge 215 where he was awarded Humanitarian of the year for deeds and services and outstanding community service.  He was active as a "Pink Lady" to the Otto Kaiser Memorial Hospital and helped with the tamale sale and other duties.  He was a rancher in Runge and Karnes City.  He was a charter member of Good Shepherd Lutheran Church and helped raise money to buy the land and build the church.  He was Superintendent of the Sunday School department, a parish shepherd and board member.  Clarence loved his church and was always available to help. Clarence and Barbara had two sons, Carl Wayne (Karen) of Canyon Lake, and Curtis Lynn (Lynda) of Abilene, five grandchildren and seven great grandchildren.  In 2006, Clarence married his longtime friend and second love of his life, Dee Yeater.  He enjoyed a full and rich life with fun and new adventures with Dee and her entire family.  He died in the arms of his loving wife, surrounded by family members.  He was preceded in death by his parents, his four sisters, Hilda Teltshick, Moreen Lipperdt, Elna Frlis, and Lillian Guettler, his great grandson Auron Land, and his wife Barbara Jean Mauer Haveman.  Clarence is survived by his children, grandchildren Craig (Meridith), Shannon (Jeffery), Kevin (Jennifer), Audra (Brad) and Curt (Meghan), 6 great grandchildren and nieces and nephews.  He is also survived by Dee's children, grandchildren, great grandchildren and great, great grandchildren. 
Visitation will be at Eckols Funeral Home Sunday, June 25 from 3:00P.M. to 5:00P.M..  Funeral Services will held Monday, June 26 at 10:30am at Eckols Funeral Home with Rev. Wally Schievelbein officiating.  Interment will follow in the Kenedy Cemetery, Kenedy, TX.
            Donations to Clarence's memory may be made to Good Shepherd Lutheran Church Building Fund or the charity of choice.