Lois M. Falvella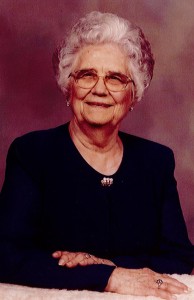 Lois M. Henderson Falvella was a resident of Hallettsville, Texas and formally of Kenedy, Texas, passed away on Monday, September 12, 2016 at the Hallettsville Rehab and Nursing Center in Hallettsville, Texas, at the age of 98. Lois was born on February 27, 1918 in Belton, Texas the daughter of Andrew and Mollie Johnson Henderson. She graduated high school in 1926 and married James William Falvella. They had two children, Jamie Marie and Frank Andrew.  Lois had a long banking career with First Nichols National Bank in Kenedy, Texas.  Mrs. Falvella is preceded in death by her parents, Andrew and Mollie Henderson; her brothers Olie Henderson and Johnny Henderson; her son, Frank Falvella; and her daughter, Jamie Falvella Smith.  Mrs. Falvella is survived by grandchildren, James and Janet Foster of Hallettsville, Joe Foster of Kenedy, Kathleen of Houston, and Jeff Foster of Corpus Christi; and her Great Grand Children, Preslie Foster of Hallettsville, Gunnar Janak of Austin and Jacki Foster of Austin.
Family Visitation will be held Thursday, September 15, 2016 from 5PM to 7PM in the Eckols Funeral Home Chapel. Services will be at 10AM Friday, September 16, 2016 in the First Baptist Church with the Rev. Tim Williams officiating.  Interment will follow in the Kenedy Cemetery.
Serving as Pallbearers will be Derek Brown, Joe Foster, Jeff Foster, Dennis Matula, Fred Nichols and Kevin Hammack.
Honorary Pallbearer will be Russell Chesser.