Charlotte Mae Braun Goss Walters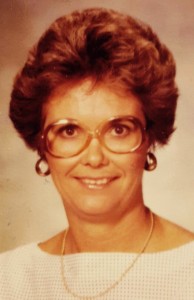 CHARLOTTE MAE BRAUN GOSS WALTERS was born in Kenedy, Texas, on March 18, 1939, to Charlie and Haysel Parsons Braun. She was the third child in what was to become a family of five. Sadly, the eldest child, a son, had died as an infant leaving Richard, Charlotte and James (Jim).  Richard and Charlotte were less than a year apart in age and were as close as twin siblings, but they were also extremely competitive.  Jim was about three years younger and filled the role as the younger brother who was very much a rascal who took pride in keeping the older siblings on their toes. Charlotte was not immune to adversity, even at an early age.  The first of a number of life-changing events occurred when she was seventeen.  Her mother and brother, Richard, had gone to San Antonio to keep a doctor's appointment and to shop in preparation for the upcoming high school graduation.  While driving back home to Kenedy, their vehicle was struck by a truck.  This accident left both mother and brother dead and left Charlie, Charlotte, and Jim devastated. While this changed their individual paths of life, they each exhibited the strength and determination that is inbred in the Braun family.  Even though, Charlotte was left adrift without her beloved mother and brother, she began to chart her course in life and took the giant step to leave home and moved to San Antonio, where she worked for the telephone company.  In a matter of a few short years, she met and married her first husband and the father of her three children.  He was in the Navy and she and the children moved from one side of the country to the other as he was moved to various naval stations.  They finally settled in Corpus Christi which gave Charlotte the opportunity to pursue and earn a college degree.  The family settled in San Antonio after her husband separated from the military and she taught Home Economics in Poth which required her to travel round-trip about 80 miles each day.  Once again, adversity reared its head and this time concluded in separation and divorce from her husband.  This left Charlotte with the lone responsibility of insuring that each of her three children was educated beyond high school so that they could successfully provide a comfortable, productive lifestyle for themselves and their future families. Again, that Braun determination kicked in and she continued her own education by earning a Master's Degree in Education with a specialization in vocational counseling. She applied to and was accepted into the doctoral program at Texas A&M, and even completed a number courses toward earning a doctorate degree, but her life took a different direction.  She continued teaching in Poth for a number of years, but the daily drive became such a detriment so she successfully applied for a teaching position in the San Antonio Independent School District.  As soon as a counseling position became available, she was promoted. Subsequently, this led to Charlotte meeting her future husband Colonel Robert O Walters, retired, who had recently concluded a long and illustrious career in the Air Force. He was a math teacher at the same campus.  And the rest is history, as the expression goes.  They married in March of 1980 and created their large blended family.  Robert contributed four children and Charlotte added her three.  All was well even though there were both Longhorns and Aggies in the mix.  All of the children have been successful and have wonderful families of their own.  This has resulted in 15 grandchildren and one great grandson.  Robert and Charlotte have led a good life and have developed a widespread group of friends with an interesting variety of backgrounds.  They have provided each other with abiding love and support and have faced and overcome numerous health scares and crises.  And Bob provided love and support to Charlotte a short few years after they married when another tragedy struck.  Charlotte was faced once again with a terrible loss.  Her brother Jim suffered a horrible hunting accident and died a premature death.  Charlotte had lost the only other sibling with whom she had grown up.  However, that did not leave her without a Braun family because her father Charlie had met and married his second wife, Lucy.  She came to the marriage with two children and then she and Charlie had Elizabeth, CIBO, and Burke. So, there were Brauns galore.  By this time, it should have become obvious that Charlotte is a Braun through and through.  She has survived horrendous obstacles time and again without becoming bitter and mean-spirited.  Instead, Charlotte developed into a strong, determined, loving, generous woman who chose to learn from mistakes and sad situations. She was truly as beautiful on the inside as she was on the outside. She loved life and lived it to the fullest.  And she gave her all to every life experience until she entered final rest on Friday, July 8, 2016.
Charlotte is survived by her husband of 36 years Robert Oscar Walters; her children: Joseph Richard Goss, wife Leann and sons Benjamin and Harrison; Delana Lee Goss Smith, husband Kevin and sons Brock, Ian, and Grant; Charles Arthur Goss, wife Stephanie and sons Clayton and Dylan; the Walters children: Wendy Walters Davis, husband Bruce and son Josh and daughter Kelly; Robert Charles Walters, wife Carolyn and sons Cav and Chris; Karen Walters Hicks, husband Frank and sons Kirby, Kevin, and Shawn, and daughter Kelsey; and Diana Jo Walters. Her surviving Braun family includes her sister Elizabeth Braun and spouse Anne Hagelstein and family; brother Charlie I. Braun II (Cibo), wife LeAnn and family; and brother Burke Lee Braun, wife Julie and family. Additionally, she is survived by step sister Cindy Williams Burris and husband Michael; and step brother Jess Burkett Williams and wife Nancy.  Other survivors include sister-in-law Sandra Ward Braun, spouse of Jim Braun, and nephew Richard Ward Braun and wife Mary, and nephew Jason Allen Braun.  On the Walters' side, Charlotte is survived by sister-in-law Jo Mary Rice, husband Frank and their three daughters and families.  And there are numerous cousins, nephews, nieces, and even grand nephews and nieces who were each very dear to her.
Charlotte is predeceased by her father Charlie Israel Braun, her mother Haysel Parsons Braun, infant brother Walter Silas Braun, brother Charles Richard Braun, and brother James Allen Braun.
I would like to leave you with this thought: Charlotte Braun Walters had such a zest for life.  She embraced each experience as it came to her and she always gave her best effort.  Failure was never acceptable to her.  Additionally, she loved family and friends unconditionally. So, it is with joy rather than sorrow that I say her life has been well spent.