Manuel B. Martinez, Jr.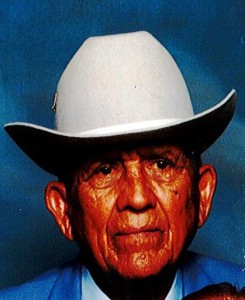 Manuel B. Martinez, Jr. Age 92 of Kenedy passed away Wednesday, July 13, 2016. Manuel was born July 10, 1924 in Runge to Manuel, Sr. & Petra Benavides Martinez. He attended local schools unfortunately at a young age he could no longer attend due to hardships. He was a man of multi talents, an intelligent individual being fluent in Spanish and English both writing and speaking. He also had many life skills, mechanics, carpentry, plumbing, electrical you name it he would do it. In his early life he joined the US ARMY faithfully serving his country for four years. While serving he fought in World War II. After serving his country he married Francisca Villarreal on the Sept. 13, 1949 to this union 14 children were born.   He is survived by his daughters, Magdalena (Valentine) Lopez of Kenedy, Matrina Wright of Charleston, SC, Maria Martinez (Elias) Rosales of Austin, Matilda Martinez of Seguin, Margarita (Jesus) Garcia of York, PA, Mary Jane (Josue) De Jesus of San Antonio; Sons, Martin (Hope) Martinez of Port Lavaca, Elias (Nina) Martinez of Kenedy, Domingo (Mona Lisa) Martinez of San Antonio, Mark (Debra) Martinez of Kenedy; sister Petra Salas of Littlefield; 50 grandchildren 77 great-grandchildren, and 18 great-great grandchildren. He is preceded in death by his wife Francisca Villarreal Martinez, parents Manuel, sr. and Petra Benavides Martinez, a infant daughter and daughters, Maria Guadalupe Martinez, Mary Ann Martinez, son Manuel "Hito" Martinez; grandsons, Ozzy Martinez, Larry D. Wright, Elias Martinez, Jr.; and brothers Lucas Martinez and Fidel Martinez.
A Rosary will be held Sunday, July 17, 2016 in the Eckols Funeral Home Chapel at 7PM. Funeral Mass will be held Monday at 10AM at Our Lady Queen of Peace Catholic Church.  Interment will be in the Sacred Heart Cemetery.