Jesus G. Salinas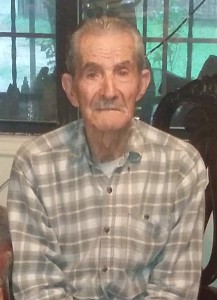 Jesus G. Salinas, Age 95 of Rio Grande City, formerly of Kenedy, TX passed away on August 22, 2015 in Rio Grande City,TX. He was born on Dec. 18, 1919 in Cerralvo Nuevo Leon Mexico to the late Narciso and Regina Gonzalez Salinas. Jesus was an entrepreneur and of the Catholic Faith.
He is preceded in death by his wife, Anita Espiricueta Salinas; parents, Narciso and Regina Gonzalez Salinas; sisters, Ofelia Salinas Campos, Manuela Salinas Gonzalez, Eva Gonzalez Salinas; brothers, Carlos Salinas, Narciso Salinas, Socorro Salinas, Domingo Salinas, Jose Salinas, Adan Salinas, Ramon Salinas, 1 grandchild, 1 great-grandchild and 1 great-great grandchild.
He is survived by his daughter, Mary Salinas and husband Reynaldo Perez, Jr of Rio Grande City, TX; son, Johnny Salinas and wife Felicita of Victoria, TX; 7 grandchildren, 19 great-grandchildren, and 4 great-great grandchildren.
A Holy Rosary will be recited Mon. Aug. 24, 2015 at 7PM in The Eckols Funeral Home Chapel. Funeral Mass will be held Tues. August 25, 2015 at 9:30 AM at Our Lady Queen of Peace Catholic Church with the Rev. Norbert Hermann officiating. Interment will follow in the Loma Alta Cemetery.