Bobbie Faye (Brock) Hunt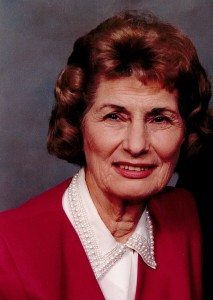 Bobbie Faye (Brock) Hunt went to rest with the Lord on the 16th of March, 2015.  She was born on September 29th, 1924, to parents Robert and Ada (Copeland) Brock, the youngest and last of the family.  She is survived by daughter Sandy Hunt Satterfield (husband Jack), grandson Shawn Williams and great-grandson Timothy Williams and their families.
She is preceded in death by her husband, William Cledy Hunt, whom she married in 1946; her parents; sisters Katie May Burns and Bertha Steubing; and brothers, Fred and Pleas Brock.
After high school graduation she completed Business College in Amarillo.  Soon after WWII was initiated with the bombing of Pearl Harbor, Bobbie went to work as a clerk for the War Department.  Twenty five years later, she retired from her management position with the Department of the Army.
She was active in her church throughout her life and was a member of many organizations, such as Business and Professional Women, Eastern Star,  Daughter of the Nile, and the Otto Kaiser Memorial Hospital Auxiliary to name a few.  She survived two serious attacks of cancer and was saved by surgery and other treatments each time.
She was a friend to all she met, and is dearly loved and missed by her family.  There will be an empty place in our hearts and it will be in the shape of our "Honey".
The Family will receive friends Wed. March 18, 2015 from 5PM to 7PM in the Eckols Funeral Home Chapel.  Graveside Services will be held Thurs. March 19, 2015 at 10AM in the Choate Cemetery with the Rev. Larry Odom officiating.
In lieu of flowers donations may be made to the Choate Baptist Church Cemetery Fund.
6355 St. Hwy 239, Kenedy, TX 78119