Amelia Marie "Emily" Munsch Kanak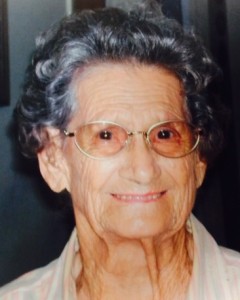 Amelia Marie "Emily" Munsch Kanak passed away Thursday, February 26, 2015 in Beeville, TX at the Age of 103.  Emily was born March 16, 1911 in Houston, TX.  She was the second of six children born to Anna Sitka Munsch and Joseph Munsch.  Emily was a very loving and giving person and will dearly missed by her family and friends.  She lost her father when she was 13 years old.  Emily and her older sister did odd jobs to help support the family.  Emily married Louis J. Kanak on Oct. 15, 1929 at St. Mary's Catholic Church in Halletsville, TX.  They were the proud parents of seven sons.  She was preceded in death by her parents, husband four sons, two sisters, two brothers, one daughter-in-law and one grandson.  Emily is survived by three sons, A.L. Kanak and wife Mildred of Pettus, TX, Tommy Kanak and wife Barbara of Kenedy, TX, Daniel Kanak of Victoria, TX, one daughter-in-law Lily Kanak of San Antonio, TX, a sister Helen Jones of Houston, TX, nine grandchildren, 16 great-grandchildren and 5 great-great-grandchildren.
Visitation will be Sunday, March 1, 2015 from 3PM to 5PM with a Holy Rosary to follow at 5PM in the Eckols Funeral Home Chapel.  A Funeral Mass will be celebrated Monday, March 2, 2015 at 10AM at Sacred Heart Catholic Church in Pettus, TX.  Burial will be held at 2PM in the St. Mary's Catholic Cemetery in Halletsville, TX.