James A. Stewart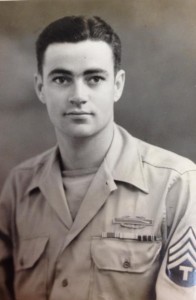 James A. Stewart died peacefully in his sleep on February 5, 2015, one day short of his 95th birthday.  The fifth child of Ollie Bull and Maude Stewart, James was born on February 6, 1920, in Kenedy, Texas.  Shortly after, they make their home in Karnes City, where he proudly called home for the rest of his life.  He is preceded in death by his sister Irene Sawyer, and brothers Brainard, Virgil and Edward.  After graduating from Karnes City High School, he received a music scholarship to attend college in Denton, TX. However, college was cut short with the outbreak of WWII when he joined the armed forces. He was assigned to the 36th Texas Division of the U.S. Army and deployed to North Africa and Italy.  James was a decorated veteran as well as a member of the Army band.
After 5 years of service and the end of WWII, James returned to Karnes City and soon met the love of his life of 69 years, June Killingsworth.   He had a hardware store for a short while, before he and June opened Stewart Avenue Cleaners.  He and June worked side-by-side for many years offering this service to the community.
A patient, kind and loving husband and dad, he is survived by his wife June; his three sons and their wives, Ronnie and Nancy, Buddy and Marnie, and Gerald and Karen.  He was also devoted to his four grandchildren and eleven great-grandchildren.
With a strong Christian faith being central in his life, James was an active leader in his church and the community.  He was a member of the Karnes City United Methodist Church for 89 years and was involved in several civic organizations including Jaycees, Masons, Chamber of Commerce, volunteer fire department, 4H club and Boy Scouts.  In retirement he enjoyed fishing, golf, gardening and having coffee with his many local friends.
A memorial service is scheduled for 10:00 on Saturday at United Methodist Church in Karnes City.  The family welcomes all to attend and celebrate the life of their beloved husband, father and grandfather.