Lillian Hilma Monson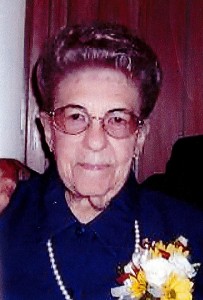 Lillian Hilma Monson age 94 of Kenedy died Feb. 17, 2015 .  Lillian was born in Kenedy Mar. 27, 1920 to F.O. & Anna Swensk Monson.  She is survived by her foster brother Charlesw (Alice) Johnson, Nephew Edward (Janet) Monson, Niece Dianna Monson, Great nieces Patricia (Randy) Morgan, Kathrytn (Michael) DuClos, Marie (Liz) Hahler, Donna & Philip Monson.  She is preceded in death by her parents, Brother Hilmer & his wife Elsie Monson, Sister & her husband Johnnie & Luella Peterson, Nephews Lawrence Monson, Mauritz Monson, Niece Dorothy & her husband Tom Hahler, Great nephew Ted Hahler.
A visitation will be held Thur. February 19th. At the Eckols Chapel from 5:00 to 7:00 PM.  Funeral services will be Friday, Feb. 20th. At 11:00 AM at the Good Shepherd Lutheran Church, Interment w ill follow  at the Elim Cemetery.