Diamentina "Tina" Perez Rivera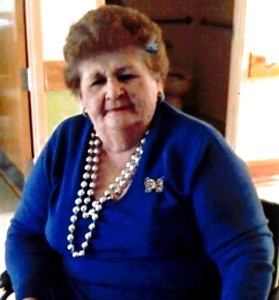 Diamentina "Tina" Perez Rivera, Age 83 of Kenedy, TX passed away on January 21, 2015 in Karnes City, TX.  She was born on November 21, 1931 in Runge, TX to the late Francisco and Porfiria Gonzales Perez.  She was a homemaker and a member of St. Anthony's Catholic Church.
She is preceded in death by her parents Francisco and Porfiria Perez.
She is survived by her daughters; Sylvia Aguerro and husband Albert of Kenedy, Angie Caballero of Runge, sons; Robert Castro and wife Elida of San Antonio, David Perez of San Antonio, Enrique Perez and wife Dianna of Runge, Joe Perez of Runge, Martin Perez of San Antonio, Michael Garcia of Brady, a brother Tom Perez of Kenedy and 28 Grandchildren, 20 Grt-Grandchildren, and 2 Grt-Grt Grandchildren.
A Rosary will be recited Monday, January 26, 2015 at 7 P.M. in the Eckols Funeral Home Chapel.  Funeral Mass will be Tues. January 26, 2015 at 10 A.M. at St Anthony's Catholic Church in Runge, TX with the Rev. Norbert Hermann officiating.  Interment will follow in the Runge Cemetery, Runge, TX.