Dr. Johnye Cannon Sturcken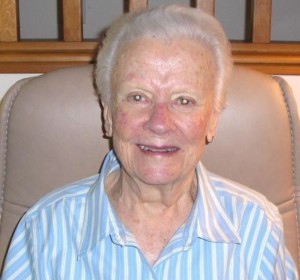 Dr. Johnye Cannon Sturcken passed away at Providence St. Peter Hospital, Olympia, Washington, on Thursday, April 24, 2014, at the age of 90 after a struggle with congestive heart failure. She was born on December 7, 1923, in Kenedy, Texas, to John Bunton Cannon and Lola Reasoner Cannon. She was preceded in death by her parents, her brother, Clem Reasoner Cannon, her sister, Jeanne Cannon Leslie, and her niece, Jerrye Cannon Arnold.
            Johnye was a graduate of Kenedy High School. In 1944, while attending Baylor University, she married Edward Butler Sturcken, of Kenedy, who predeceased her. She graduated from Baylor in 1945. In the early 1950s, she taught at Kenedy High School and coached the girls' basketball team there before pursuing her graduate degrees. She received her Ph.D. in British Literature and History from the University of Texas at Austin in 1964. After teaching English at Central Missouri State College, Warrensburg, Missouri, she became an associate professor of Literature and Languages at East Texas State University, now Texas A&M  University- Commerce, where she spent the rest of her career. In 1972, she was appointed Dean of ETSU's Graduate School. In 1973, she was appointed Dean of the College of Liberal and Fine Arts, becoming the first woman to serve as an academic dean in the university's history. In 1976, she resumed teaching English as a full professor in the Department of Literature and Languages at ETSU, retiring as a Professor Emerita in 1993. Her academic specialties were English Renaissance literature and Shakespeare. She was a talented, respected and dedicated teacher who always maintained high academic standards for the benefit of all her students. The Texas A&M University– Commerce flag was flown at half- staff on May 1, 2014, in her memory. During her career, she was active in the International Modern Language Association, the American Studies Association of Texas, the Shakespeare Society, the Southwest Modern Language Association, the Western American Literature Association and other academic organizations.
            Johnye was very generous, social and fun-loving, and she had lots of friends throughout her life. She loved giving dinner parties for her friends and participated for years in the Commerce, Texas, Wine & Cheese Society. She also was adventurous and loved to travel. Johnye visited every continent except Antarctica, but her favorite destination was Europe- especially Great Britain and France. Even after she was afflicted with macular degeneration, which eventually left her legally blind, she bravely continued to travel within the US to visit family and friends. In 2006, she joined the Daughters of the American Revolution, Sacajawea Chapter, in Olympia, Washington.
            Johnye is survived by: her sisters-in-law, Mary Cannon Quillian, and Betty Gay Kennedy; her cousin, Edwin P. Ruhmann, III, and wife Jeanne and their family; her sister's children, Thomas R. Leslie, IV, and Jeanne Leslie; her brother's children and their families- her nieces Christy Cannon and Lisa Cannon Theriot and husband Michael, grandniece  Michelle Whitten and husband Keith, grandnephew Brandon Cass and wife Virginia, grandniece Laura Morgan and husband Buck, grandniece Mary Champagne, grandniece Lauren Arenas and husband Jesse, and grandnephew John Theriot; and the family of her late cousin, Saralyn Pietsch. She is also survived by: many long-time friends in Washington State, Texas, and elsewhere, including Dr. Dorys Crow Grover, Caroline Coble, Maryetta McClurg, Dr. Keith McFarland, and Dr. Richard Tuerk; her childhood friends in Kenedy, Nancy Avant and Amanda B. Reid; and her kind personal assistant and caregiver in Lacey, Washington, Louise Hay.
            The funeral will be held Wednesday, May 7, 2014, at 1:00 pm at Eckols Funeral Home, Kenedy, Texas, with Reverend Sue Huntsman officiating. Honorary pallbearers are Edwin P. Ruhmann, III, Thomas R. Leslie, IV, Michael Theriot, Brandon Cass, John Theriot, and Jesse Arenas. The family asks that, in lieu of flowers, donations be made to South Texas Children's Home, P O Box 1210, Beeville, Texas 78104-1210.