Carol Ann Johnson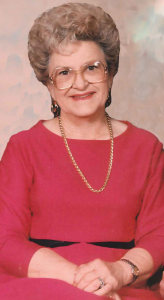 Carol Ann Johnson, a longtime resident of Kenedy, Texas, passed away in her home, Wednesday, April 16, 2014 at 8:40 A.M., at the age of 80 years, 6 months, and 20 days. Carol was born in Buffalo, New York, September 27, 1933 to Henry McCourt and Anna Takac McCourt.
On February 3, 1962, Carol married Harding Johnson in Kenedy, Texas. Harding preceded Carol in death on March 6, 1997.
Carol is survived by her sons, Terry Johnson and wife Melanie of Karnes City, Jim Johnson and wife Karen of Victoria, Mike Johnson and wife Brenda of Austin, Patrick Johnson and wife Staci of San Antonio and Glenn Valentine of Kenedy; and her grandchildren, Rhett and Hailey Johnson, Kelly and John Williams, Andrea and Drew Rhodes, Chris Johnson, Kaitlyn, Grant, and Michael Johnson, and Kayla and Kevin Johnson. Ms. Johnson is preceded in death by her parents; her sister, Peggy McCourt and her brothers, Kenneth McCourt and Robert McCourt.
Visitation will be held from 6:00 P.M. – 8:00 P.M., Friday, April 18, 2014 in the Eckols Funeral Home Chapel, Kenedy, Texas. Funeral services will be, Saturday, April 19, 2014 at 2:00 P.M., in the Eckols Funeral Home Chapel with Rev. Sue Huntsman officiating. Interment will follow in the Kenedy Cemetery, Kenedy, Texas. Serving as pallbearers will be, Chris Johnson, Rhett Johnson, Kevin Johnson, Grant Johnson, Michael Johnson, and Kyle Shaw.
In lieu of flowers, the family asks that memorials be made to, Nurses In Touch Hospice; 491 N. Sunset Strip, St. #106, Kenedy, Texas 78119.