Erwin L. Kramer, Jr.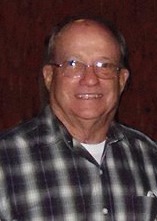 Erwin L. Kramer, Jr., entered eternal rest, Monday, October 7, 2013 at 5:56 P.M. in the Otto Kaiser Memorial Hospital in Kenedy, Texas at the age of 70.
Erwin was born in Cuero, Texas the son of E. L. Kramer, Sr., and Edna Byars Kramer on April 1, 1943. In March 1951, has dad opened Kramer and Son Body Works and in January 1979 the name changed to Kramer Body and Frame. In April 1995, after his father's passing; Erwin, Jr., took over the family shop and in December 2011 after sixty years and ten months of work retired from the body shop. On March 7, 1964, he married the love of his life, Anna Mutz in Karnes City. Erwin was of the Lutheran faith and was an active member at Good Shepherd Lutheran Church in Kenedy, Texas.
Mr. Kramer is preceded in death by his parents and his sister, June Slaughter and husband Milton. Erwin is survived by his wife of over 49 years, Anna Mutz Kramer; his sons, Erwin Louis "Tripp" Kramer, III, and wife Leslie of Edna and Dirk Kramer, Sr., of Crosby and his grandsons, Dirk Lance Kramer, Jr., David Scott Kramer and Quade Colton Kramer.
Visitation will be held from 6:00 – 8:00 P.M., Wednesday, October 9, 2013 in the Eckols Funeral Home Chapel, Kenedy, Texas. Funeral services will be held, 10:00 A.M., Thursday, October 10, 2013 at Good Shepherd Luther Church in Kenedy with Rev. Wally Schievelbein officiating. Interment will follow in the Kenedy Cemetery with T.D. Pawelek, III, Mark Pawelek, Nathan Mutz, Tim Murphy, Michael Slaughter and Milton Slaughter, Jr., serving as pallbearers.