Lydia E. DeLosSantos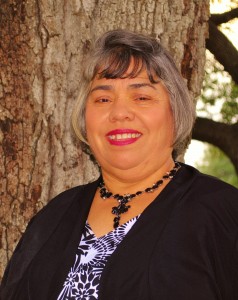 Lydia E. DeLosSantos, surrounded by her family, passed away peacefully in her home in Kenedy, Texas, Friday, October 25, 2013, at 6:35 A.M., at the age of 62 years, 6 months and 21 days.
Lydia was born in Karnes County, Texas to Valentin Escamilla and Maria Saenz Escamilla on April 4, 1951. She married George DeLosSantos on September 17, 1977. The two of them began a life in Kenedy and raised a family. Lydia was of the Pentecostal faith and was a devoted pastor's wife and loving mother.  
Lydia is preceded in death by her parents, Valentin and Maria Escamilla and her brother David Escamilla. Mrs. DeLosSantos is survived by her beloved husband of 36 years, George DeLosSantos; her sons, Anthony DeLosSantos and wife Lisa, Josh DeLosSantos and wife Nelda and Isaac DeLosSantos all of Kenedy; her sisters, Frances Rodriguez of Beeville, Ruth Chano of Beeville, Ester Charles of Runge, Febe Escamilla of Karnes City and Eva Aguilar of Lancaster. She is also survived by her brothers, Miguel Escamilla of Weslaco, Cosme Escamilla of Weslaco, Valentin Escamilla, Jr., of Tuleta and Samuel Escamilla of Grand Prairie and her 6 beloved grandchildren, Nathaniel, Aliah, Georie, Jauez, Marcus and Naomi.
A prayer service will be held beginning at 6:00 P.M., Sunday, October 28, 2013 at UPLCII Pentecostal Headquarters in Kenedy, Texas. Funeral services will begin at 10:00 A.M., Monday, October 28, 2013 at UPLCII Pentecostal Headquarters with Rev. Isaac DeLosSantos and Rev. Anthony DeLosSantos officiating. Interment will follow in the Kenedy Cemetery.