Leon Davis Fudge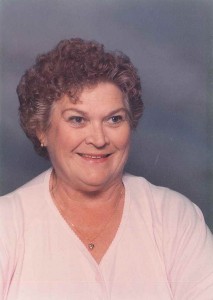 Leon Davis Fudge, a resident of Kenedy, Texas for the past 25 years, passed away at Northeast Baptist Hospital in San Antonio, Texas, Thursday, October 24, 2013 at the age of 74 years, 11 months and 2 days.
Leon was born, November 22, 1938 in Poteet, Texas, the daughter of Guy Burns and Margaret Brunner Burns. She was a nurse and worked at different rest homes and nursing home around the area. In May 2012, Leon married Welton Fudge. Mrs. Fudge is survived by her husband, Welton Fudge; her daughter, Margaret Davis of Corpus Christi; her sons, Glen Davis, Jr., of Mathis, Re Wiley Davis of Springs and Norman Leon Davis, Sr., of Houston;  her sister, Betty Lucille Wade of Portland and 16 grandchildren and 6 great-grandchildren. Leon is preceded in death by her parents, Guy and Margaret Burns.
Visitation will be held, Saturday, October 26, 2013 in the Eckols Funeral Home Chapel from 6:00-9:00 P.M. Funeral services will begin at 2:00 P.M., Sunday October 27, 2013 also in the funeral home chapel with Russell Briley officiating. Interment will follow in the Kenedy Cemetery with Glen S. Davis, Jr., Glen S. Davis, III, Re Wiley Davis, Norman L. Davis, Sr., Norman L. Davis, Jr., Jay N. Davis, Christopher W. Davis, Daniel Strnad and Jermial Brown serving as pallbearers.
In lieu of flowers, the family suggests that memorials be made to; Texas Chapter Paralyzed Veterans of America; 2656 So. Loop W, Ste. 130; Houston, TX 77054.