Martha Gonzalez Hernandez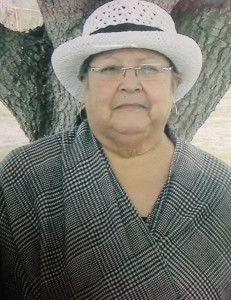 Martha Gonzalez Hernandez, surrounded by her family passed away, Friday, August 30, 2013 at her residence in Pawnee, Texas at the age of 66 years, 6 months and 18 days.
Martha was born, February 12, 1947 in Nell, Texas, the daughter of Jesus Gonzalez and Guadalupe Alaniz Gonzalez. In 1965, Martha married Frank Hernandez in Pawnee, Texas; together the two started a family and raised 6 sons, Martha was a devoted wife, mother and homemaker. She was of the Catholic Faith and a member of Our Lady of Guadalupe Catholic Church in Pawnee.
Martha is survived by her beloved husband of over 45 years, Frank Hernandez of Pawnee; her sons, David Hernandez and wife Barbara of Three Rivers, Jerry Hernandez of Pawnee, Fidencio "FiFi" Hernandez and wife Amy of Pawnee, Danny Hernandez and Kristine Ochoa of Kenedy and Jeffery Hernandez of Pawnee; her sister, Agarita Cortez of Pawnee; her brothers, Juan Gonzalez of Karnes City, Felix Gonzalez of Three Rivers, Mike Gonzalez, Sr., of Karnes City and Matias Gonzalez of Kenedy. Martha is also survived by her 17 grandchildren; 4 great-grandchildren and numerous nieces, nephews. Mrs. Hernandez is preceded in death by her parents; her son, Christopher Lee Hernandez and her brothers, Benny and Tony Gonzalez.
Visitation will begin, Monday, September 2, 2013 in the Eckols Funeral Home Chapel with a rosary to begin at 7:00 P.M., Monday. Funeral mass will be celebrated, Tuesday, September 3, 2013 at 10:00 A.M., at Our Lady Queen of Peace Catholic Church, Kenedy with Rev. Norbert Herman officiating. Interment will follow in the Nell Cemetery.