Marjorie Alice Rawe Little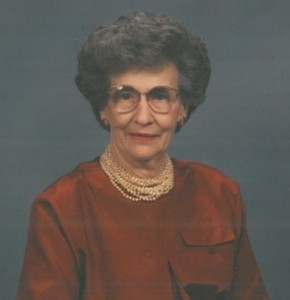 Marjorie Alice Rawe Little was born June 17, 1922  in Cibolo, TX and passed away August 31, 2013, in Bedford TX.
Preceded in death by beloved husband Royce Little, parents Otto and Selma Rawe, brother Joyce Rawe, and nephew Kieth Rawe.
Marjorie is survived by her son Alan Little (Cat), daughter Durrine Kilgore (Scott), grandchildren Matthew (Lindsey), Joshua (Brenda) Little, Colin Kilgore and great grandchildren Caitlin, Coraline, and Ian Little.  She is also survived by nieces, Eyleen Crain and Charlene Hochman, and nephew Bud Little.
Marjorie graduated with a Home Economics degree from Southwest Texas State Teachers College, now known as Texas State University, in San Marcos. She taught school for over 45 years in Cibolo, Karnes City and Sinton, TX.
She was an active member of the First United Methodist Church Sinton, Texas for many years.
Marjorie loved her family and friends very much and will be dearly missed.
Graveside services will be held at 9:30 A.M., Thursday, September 12, 2013 in the Kenedy Cemetery, Kenedy, Texas. In lieu of flowers, donations may be made to the First United Methodist Church of Sinton, TX in her honor.