Albert Ernest Schroeder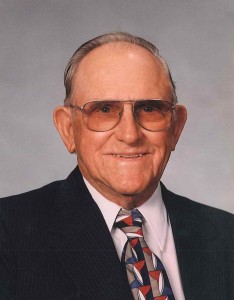 Albert Ernest Schroeder passed to his heavenly home, from the comfort of his earthly home near Fashing/Peggy, on Sunday, September 8, 2013 at the age of 91. He was born on March 14, 1922 in Fashing, Texas, a small town whose name originated from his father.  Albert was a farmer/rancher all of his life.  His father passed away following a farming accident when Albert was 6 years old.  Being the only boy in the family, he left school in the 8th grade to help provide for his Mom and 5 sisters.
On July 15, 1950 Albert married his beloved "Tuttie" (Bernice Irene Esse) and they resided between the Fashing and Esseville communities their entire lives.  Albert loved softball.  He was the pitcher for his brother-in-law Joe Theis's "Magnolia" softball team. He could throw the ball fast or slow, overhanded or underhanded, often tricking the batter into swinging. Later he taught his daughters to play ball and all 3 were pitchers for the Fashing Polecats!
He was an exceptional farmer, often running test plots for DeKalb  to determine the best performing varieties and highest yielding sorghums.  In 1960, 1961 and 1962 Albert received awards at the National level from DeKalb for high yield sorghums.  In 1967 Albert was awarded "Comeback Farmer of the Year" by the Rotary Club in Atascosa County.   He served on the Board of the Karnes County Farm Bureau 25 years, and for 10 of those years he was the Board President.  In 1986, he served at the state level on the Texas Farm Bureau Blue Ribbon Goals Committee.  The Texas Farm Bureau presented Albert with the Pioneer Award honoring him for his pioneering leadership and exceptional service to Farm Bureau and Agriculture.  In 1990, Albert received an Award for Outstanding Accomplishments in Resource Conservation by Atascosa County and in 1991 the Pleasanton Lion's Club also awarded Albert as a Soil and Water Conservation Farmer.   He served as a director on the Fashing/Peggy Water Supply Corporation for 9 years.
While he loved being a farmer and rancher, his greatest joy came from his devotion to the Lord and to his family.  He served as Lay Leader of the Fashing United Methodist Church for 45 years and worked on numerous Emmaus Walks.  He walked the talk and lived the word "love".  "I love you" were the most used words in his life.  All who crossed his path were blessed by his kind temperament and positive words. He is survived by his wife of 63 years, "Tuttie" (Bernice). He loved hearing his wife sing, even to his last moments on this earth.  While he was blessed with 3 daughters, he always said that his boys would come later—he loved his son-in-laws as his own. He is survived by his daughter Shirley Jambers and her husband Tim from Whitsett, Sharon Purser and her husband David from Karnes City, Sandra Gibbs and her husband Kip from Corpus Christi. His grandchildren will never forget the many rides "Papa" gave them in the Jeep, the Yellow Bird Grain Truck, and Tractors/Combines.  At a young age they got their hands dirty feeding cubes to the cows.  His surviving grandchildren are: John Jambers and his wife Sarah and great-grandson Jack of Conroe; Sharla Jambers Myers and her husband Travis of Katy; Kendall and Jeremy Purser of Karnes City; Justin and Katrina Gibbs of Corpus Christi.
Albert is preceded in death by his mother and father, Albert H. and Charlotte Rex Schroeder; his sisters Elsie Jonas (Walter), Louise Kellner (Herman), Charlotte "Mutzie" Henke (Felix), Alice Theis (Joe) and Helen Johnson (Kyle).  His brother, Herman K. Schroeder passed away when Albert was an infant. He is also survived by numerous nieces, nephews and friends. Albert's family extends sincere appreciation to every doctor, nurse, CNA and helper that made Albert's last years so comfortable: Dr. Gutierrez, Annette, Kelly, Anna, Mary, Tammy (Wynette), Melinda, Adriana, Sylvia, Lila, Debra, Leslie, the staff of Nurses In Touch, Serapio and Chaplin Mary Theresa.
Pall Bearers are Albert's 6 Grandchildren: John Jambers, Sharla Jambers Myers, Kendall Purser, Jeremy Purser, Justin Gibbs and Katrina Gibbs. Honorary Pall Bearers: Shelby Henke, Ronnie Retzloff, Serapio Luna and Ernesto Martinez.
Memorials may be made to the following organizations or to a charity of your choice:
Fashing United Methodist Church  Memorial Fund
7272 FM 99
Campbellton, Texas 78008
Fashing Cemetery Association
Shelby Henke
3030 CR 407
Campbellton, Texas 78008
Providence Place-formerly Methodist Mission Home
6487 Whitby Road
San Antonio, Texas 78240
Methodist Children's Home
P.O. Box 5010
Waco, Texas 76708