Pomposa Lopez Rodriguez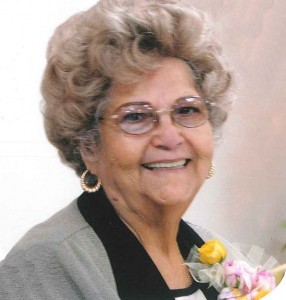 Pomposa Lopez Rodriguez, a resident of Kenedy, Texas, passed away, Friday, September 6, 2013, at 3:54 A.M., at DeTar Hospital in Victoria, Texas at the age of 87 years, 11 months and 18 days.
Pomposa was born in Kenedy, Texas on September 19, 1925, the daughter of Cecelio Lopez and Dolores "LoLa" Hernandez Lopez. She worked as both a dietary cook for Green's Nursing Home and then later as a cook for May's Restaurant. She was of the Catholic faith and attended Our Lady Queen of Peace Catholic Church in Kenedy.
Pomposa is preceded in death by her parents; her husband, Pedro Rodriguez, Sr.; her sons, Edward, Paul and Jesse Rodriguez; her sisters, Natalie Garcia, Luciana Lopez, LoLa Sauceda and Petra Morales and her brothers, Tommy, Pablo and Macario Lopez. Ms. Rodriguez is survived by her daughters, Mary DeSalme of San Antonio and Cynthia Valderrama and husband Phillip of Victoria; her sons, Lucio Rodriguez and wife Beatrice P. of Victoria, Pedro Rodriguez of Corpus Christi, Pedro Rodriguez, Jr., and wife Mary Ann of Victoria, Juan Rodriguez of Kenedy and Alejandro Rodriguez and wife Janie of Kenedy and her sister, Frances Skotzko of Chicago. She is also survived by her 105 grandchildren and great-grandchildren and her 5 great-great grandchildren.
Visitation will begin, Sunday, September 8, 2013 and a rosary will be recited Sunday at 7:00 P.M., in the Eckols Funeral Home Chapel, Kenedy, Texas. Funeral mass will be celebrated, 10:00 A.M., Monday, September 8, 2013 at Our Lady Queen of Peace Catholic Church in Kenedy, Texas. Interment will follow in the Sacred Heart Cemetery,
Kenedy, Texas.