Bernice Z. Wernli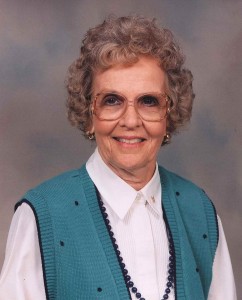 Bernice Z. Wernli, a resident of Pawnee, Texas, passed away, Saturday, February 16, 2013, in Schertz, Texas, at the age of 83 years.
Bernice was born, March 13, 1929, in Nell, Texas, the daughter of Christian Zaeske and Hilda Zamzow Zaeske. On September 21, 1952, Bernice married Wesley Wernli in Pawnee, Texas. After over 38 years of marriage, Wesley preceded her in death on October 14, 1990. Bernice worked for over thirty years for the Three Rivers Livestock Auction having retired in 2003. Bernice was a devoted member of the Good Shepherd Lutheran Church.
Bernice is survived by her only son, David Lynn Wernli of Universal City, Texas. Ms. Wernli is preceded in death by her parents; her sister, Dorothy Moore and her brother, Allen Zaeske.
Funeral services were held at 2:00 P.M., Wednesday, February 20, 2013, in the Eckols Funeral Home Chapel with Chaplin Mike McClung officiating. Interment followed in the Pawnee Cemetery. Serving as pallbearers were Allen Louviere, Gerald Teague, Wayne Moore, Larry Moore, Bret Moore and Wade Zaeske.
In lieu of flowers, the family requests that memorials be made to Boysville of Texas, P.O. Box 369, Converse, Texas, 78109.