Anita Guerrero Ramirez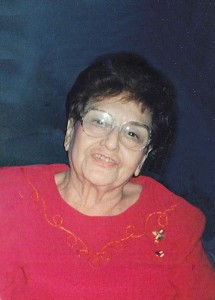 Anita Guerrero Ramirez, 86 years young, went to eternal life in Heaven, Sunday, February 17, 2013 at Whispering Oaks Nursing Home, in Cuero, Texas. She is now in Heaven with our Lord she loved so much and served so well. Her work here is complete and God took her home. We have the assurance and deep comfort that mom is at home with Our Father in Heaven and walks daily with Jesus.
The emotional and physical pain of missing mom is sometime overwhelming. The emptiness left in our hearts will never be filled until we are together again, never to be separated for all eternity. It was God who chose the exact time, place and means of how and when mom would go home with Him in Heaven.
Anita was born November 17, 1926, in Charco, Texas the daughter of Santiago Guerrero and Agapita DeLuna Guerrero. She worked for many years as a CNA having worked in Goliad, Kenedy and Beeville. On January 28, 1941, Anita married, Jose Ramirez, Jr., in Goliad, Texas. She was also a faithful and devout member of the Pentecostal Temple Monte Horeb Church in Yorktown, Texas.
Left behind to cherish her memory are her daughters, Beatrice Thompson and husband Harry, Jo Ann Cuellar and husband Ariel, Sylvia Naranjo and husband Larry and Diane Reyes and husband Guadalupe; her beloved grandchildren, Vince and wife Gail Cuellar, Valen and wife Sandy Cuellar, René Cantú and wife Jo Ann; her great-grandchildren, Jeremy Jay Reyes and wife Venessa, Courtney Reneé Cantú and Colton Cuellar and her great-great-grandson, Connor Jeremy Reyes. Ms. Ramirez is preceded in death by her parents, her beloved husband, Jose Ramirez, Jr.; her sister Rosa Garcia and her brother Jose DeLuna.
Visitation was held, Wednesday, February, 20, 2013 in the Eckols Funeral Home Chapel, Kenedy and a prayer service was held at 7:00 P.M. Wednesday, in the chapel, officiated by Rev. Eliseo Rios and Dr. Honorio Velázquez. Funeral services began at 2:00 P.M., Thursday, February 21, 2013 in the Eckols Funeral Home Chapel with interment following in the Charco Cemetery, Charco, Texas. Serving as pallbearers were, Vince Cuellar, Valen Cuellar, René Cantú, Jeremy Jay Reyes, Cresencio Rangel, Sr. and Cresencio Rangel, Jr. Serving as honorary pallbearers will be, Domingo Ramirez, Jr., and Alex Rodriguez.
The family of Anita G. Ramirez would like to express their sincere thanks to everyone for their supportive thoughts and prayers. Also, a special thanks to the staff of Whispering Oaks Nursing Home for being so kind and Pastor Carl Schneider