Steven Garcia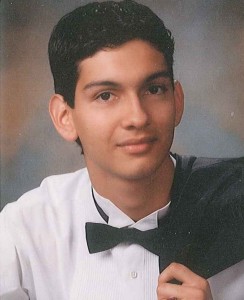 Steven Garcia a resident of San Antonio, Texas, formerly of Victoria, Texas, passed away, October 19, 2012 in San Antonio, Texas, at the age of 30 years, 3 months and 2 days.  He was born on July 17, 1982 in Floresville, Texas, the son of Diana Molina and Gilbert Garcia.
Steven graduated from Victoria High School in Victoria, Texas and went on to get his BBA Degree in Marketing from the University of Texas at San Antonio, where he was also a Self-Contracting entrepreneur.
He is survived by his parents; his sister, Sonia Garcia of Victoria, Texas; his brother, D.J. Molina of Victoria, Texas; his grandmothers, Maria Salas Guzman of Port Lavaca, Texas and Guadalupe Velasquez of Kenedy, Texas; and his life companion, Roy Fields of San Antonio, Texas. Steven is also survived by his niece, Adrianna Lopez; his nephews, Liam Molina and Noah Molina and numerous aunts, uncles and cousins.
A rosary was recited, Sunday, October 21, 2012 at 6:30 P.M., at Eckols Funeral Home Chapel, Kenedy, Texas, with funeral services following at 7:00 P.M., also in the chapel, with the Rev. Norman Hermann officiating. A private graveside was held, Monday, October 22, 2012, at the Sacred Heart Cemetery, Kenedy, Texas.