Milton E. Slaughter, Sr.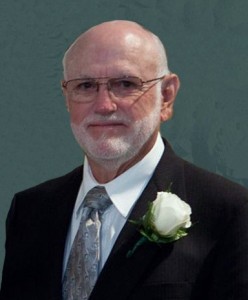 Milton E. Slaughter, Sr., joined hands with the Lord on October 8, 2012, to complete his journey of sharing. He dedicated a lifetime to serving without seeking benefit; giving to all without questioning the need; teaching life lessons for the joy of knowledge; and adopting the children of Runge, providing the love of a man with a heart full of compassion.
Milton is survived by his wife of 16 years, Sandra Osburn Slaughter, of Runge. The couple married on October 5, 1996, in Runge, Texas. Milton was also blessed with a family of three sons, Milton Slaughter, Jr., and wife Rox, Russell Osburn and Janie and Michael Slaughter and Diana; and two daughters, Shari Slaughter Janak and Roxanne Webb and husband Rick. Milton is also survived by 8 grandchildren, Sheila Noake and husband Brett, Shanna Wadsworth and husband Josh, Chelsea Slaughter, Brent Janak and Jeanette, Aaron Slaughter, Bekah Webb, Riley Webb and Ashton Slaughter. He also knew the love of six great grandsons: Zachary Janak, Evan and Logan Starling, Will, Gus and Hud Wadsworth.
Milton was born on March 21, 1937, in Kenedy, to Josie Puckett Slaughter and Elvin Marion Slaughter. He graduated from Kenedy High School in 1955, where he was President of his Senior Class, a member of NHS, and voted Mr. Kenedy High. On July 13, 1957, he married June C. Kramer. The couple remained married for 38 years until her death on September 6, 1995. Milton Slaughter knew the value of a strong work ethic. He worked in his parents' dry cleaning business as a child, at Johnson's Flowers and The Kenedy Compress as a teenager, and for Alcoa as a young man. He retired after a 33-year career with Union Carbide, his final employment as a Shift Department Head. In his retirement, Milton learned the pleasures of real work, as he returned to his roots in Karnes County with Sandra in 1996, and began farming and ranching. Milton is survived by a sister, Peggy Graham, a brother, Billy and wife Mildred and a sister-in-law, Billie Jean Slaughter. He was preceded in death by his parents; a brother, Joe Slaughter and a brother-in-law, Wallace Graham. 
Visitation was held from 5:00 to 8:00 P.M., Thursday, October 11, 2012 in the Eckols Funeral Home Chapel, Kenedy, Texas. Funeral services began at 10:00 A.M., Friday, October 12. 2012, in the funeral home chapel with Rev. Jon Waller officitating. Burial wifollowed at Memorial Park Cemetery, Victoria, Texas. Pallbearers included; Billy Butler, Floyd Brasher, Bob Alexander, Ted Deming, Jacky Lott, Leon Srubar, Russell Osburn and Hector Mendoza.
 Just as Milton gave in life, so did he remember to continue that gift beyond. He donated his corneas for two others to have the gift of sight. Donations of remembrance may be made to the Runge First Baptist Church, P.O. Box 488, Runge, TX 78151; Pulmonary Fibrosis Association of Texas, 1525 Lakewood Drive, #101, Kingwood, TX 77339, or to the charity of choice.