Daniel Jackson "Red" Robinson, Sr.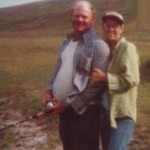 Daniel Jackson Robinson, Sr. (Red) was reunited with Ann, his beloved wife on October 22, 2012. Daniel is survived by his sisters DiAnn Hawkins, Margie Sumrow and Imogene Robison; his children, Daniel Jr., and Debbie Robinson, Johnny Roy and Liz Robinson, and Lu Ann and Mitch Long. His grandchildren, Daniel Jackson Robinson III (Trey), Ruby Robinson, Tucker Andrew Long and Kally Annlyn Long; nieces and nephews, many friends and people he touched.
He went to be with our Lord and those who wait at Heaven's gate, wife Ann Robinson, parents Ruby and Daniel Robinson, and brother, J.B. Red served his country in the Navy. Served his family and friends each day of his life. He was a storyteller and a cutup; always making us laugh, always giving us hope. He fished as long as he could and loved every minute of it. He wanted others to celebrate life, not dwell on death, so his advice to anyone reading this is . . . "Grab a pole. Hit the water. Don't look back!"
The family respectfully asks that donations be made to a Hospice of your choice, any of the Food Banks, or to your favorite charity.
A private memorial service will be hosted by the family.