Lillian Fritz Odenwelder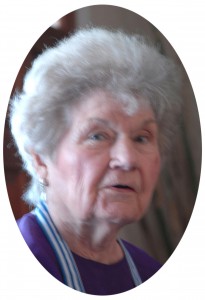 Lillian Odenwelder passed away peacefully at home in Austin, Texas, October 24, 2012, after a series of strokes. She was born,  January 11, 1929 in Marion, Texas and grew up on a farm in Guadalupe County. As a young adult she moved to Pennsylvania with her husband and helped out in retail sales, specializing in appliances and sewing machines.
Lillian loved to cook and bake for family and friends. She prided herself on keeping a very tidy home, and always presented herself at her best. Her favorite thing to do was being around relatives and friends, especially during holidays when many would come from far away to enjoy her hospitality. Lillian's kindness and loving demeanor were appreciated by all who knew her.
Lillian is preceded in death by her husband, Kenneth; her parents, Carl and Flora Fritz; her brothers, Arno, Andrew, Marvin and Lewis; and her sisters Linda and Bertha. She is survived by her sister, Lonie Zwicke; her sons, Wayne and wife Darlene Stockton of Kenedy, Texas, Thomas Odenwelder of Galveston, Texas, Floyd and wifeCarol Odenwelderof Florence, Alabama; her daughters, Deborah and husband Robert Underwood of Austin, Texas, and Kay Odenwelder of West Deptford, New Jersey. She also had nine grandchildren and five great grandchildren. Besides family, she will be lovingly missed by the many friends she made over the 83 years of her wonderful life.
Funeral services began at 10:00 A.M., Saturday, October 27, 2012, in the Eckols Funeral Home Chapel, Kenedy, Texas, with Rev. Wally Schievelbein officiating. Serving as pallbearers were, Ely Odenwelder, Bradley Fish, George Fritz, Andy Fritz, Randy Schultz and Emily Fenton.