Lois Christine Grubbs Peeples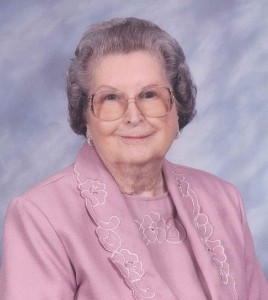 Lois Christine Grubbs Peeples, a lifelong resident of Kenedy, Texas went to be with the Lord, Saturday, August 18, 2012, at 10:30 P.M., at the Bluebonnet Nursing Center, at the age of, 92 years, 7 months and 24 days.
Lois was born Christmas day in 1919, the daughter of, T.A. Grubbs and Bertha Shocklee Grubbs. On March 9, 1939, Lois married Rufus Peeples in Kenedy, Texas. Lois was a bank teller for First Nichols National Bank in Kenedy, where she worked for 29 years.
Lois is survived by her daughter, Brenda Ford and husband James of Kenedy. She is preceded in death by her parents and her beloved husband.
Visitation was held, Monday, August 20, 2012, from 5:00-7:00 P.M., in the Eckols Funeral Home Chapel, Kenedy, Texas. Funeral services were held at 11:00 A.M., Tuesday, August 21, 2012, in the Eckols Chapel, with Russell G. Briley officiating. Serving as pallbearers were, Steve Monsivais, Pat Tam, Patrick Tam, Dale Hallmark, Weston Hallmark and Travis Earl Peeples.
In lieu of flowers the family requests that donations be made to the Church of Christ.