Ascension "Connie" Reyna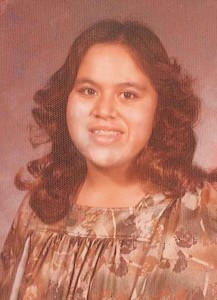 Ascension "Connie" Reyna, of Runge, Texas, passed away, Friday, July 27, 2012 at 12:31 A.M., at the age of 52 years, 2 months and 1 day, at Methodist Main Hospital in San Antonio, Texas.
Connie was born, May 26, 1960 in Jonah, Texas, the daughter of Faustino Zapata and Manuela Garcia Zapata. On April 25, 1981, Connie married her husband, Rogelio Reyna, Sr., in Kenedy, Texas. She was a member of Our Lady Queen of Peace Catholic Church and worked at the John Paul II Nursing Home in Kenedy.
Connie is survived by her loving husband of 31 years, Rogelio Reyna, Sr.; her son and daughter-in-law, Rogelio and Terri Renya, Jr.; her sisters, Alberta Moreno, Alicia Lazano and Josephine Donnell; her brothers, Juan and Domingo Zapata. Mrs. Reyna is preceded in death by her parents; her sister, Maria Urruthia and her brothers, Eisa and Jacinto Zapata.
A rosary was recited, Sunday, July, 29, 2012 at 7:00 P.M., in the Eckols Funeral Home Chapel, Kenedy, Texas. Funeral mass was celebrated at 10:00 A.M., Monday, July 30, 2012, at Our Lady Queen of Peace Catholic Church in Kenedy. Burial followed in the Sacred Heart Cemetery.
Serving as pallbearers were, Ramon Reyna, Jr., Roland Reyna, Brandon Reyna, Frankie Reyna, Joe Mendiola, Jr. and Walker Theuret. Serving as honorary pallbearers will be, Eddie Urruthia, Jessie Urruthia and Michael Zapata.