Jose Luis "Joe" Cruz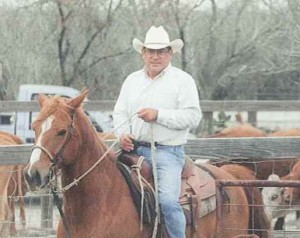 Jose Luis "Joe" Cruz, a resident of Pawnee, Texas, passed away peacefully surrounded by his family at his home, Sunday, July 22, 2012 at 7:20 P.M., at the age of 63 years, 4 months and 17 days.
Joe was born, March 5, 1949 in Pawnee, Texas, the son of Luis Cruz and Jovita Diaz Cruz. He graduated high school and then began his life as a cowboy and rancher.
Joe is survived by his loving wife, Elvira Gonzales Cruz; his sons, Amado Cruz and wife Stacy, Arturo Cruz and wife Rosemary, Jose Cruz, Ramon Reyna and wife Jennifer and Roland Reyna and wife Andrea; his daughter Roxanne Theuret and husband Walker; his sisters, Linda Chapa and husband Carlo, Mary Garza and husband Henry, Dora Gonzales and husband Domingo, Amalia Montemayor and husband Richard and Ofelia Cruz; his brother, Genaro Cruz; and his beloved 11 grandchildren. Mr. Cruz is preceded in death by his parents, Luis and Jovita Cruz.
Visitation began, Tuesday, July 24, 2012, and a rosary was recited, Tuesday, July 24, 2012 at 7:30 P.M., in the Eckols Funeral Home Chapel. Funeral mass was celebrated at 10:00 A.M., Wednesday, July 25, 2012 at Our Lady Queen of Peace Catholic Church in Kenedy, officiated by Rev. Norbert Herman. Interment followed in the Loma Alta Cemetery. Serving as pallbearers were, Carlos Gonzales, Calvin Blaschke, Corky Franke, Wallon Rouse, Cecil Johnson, Jr. and Robert Cruz, Jr.