Mary Louise Falks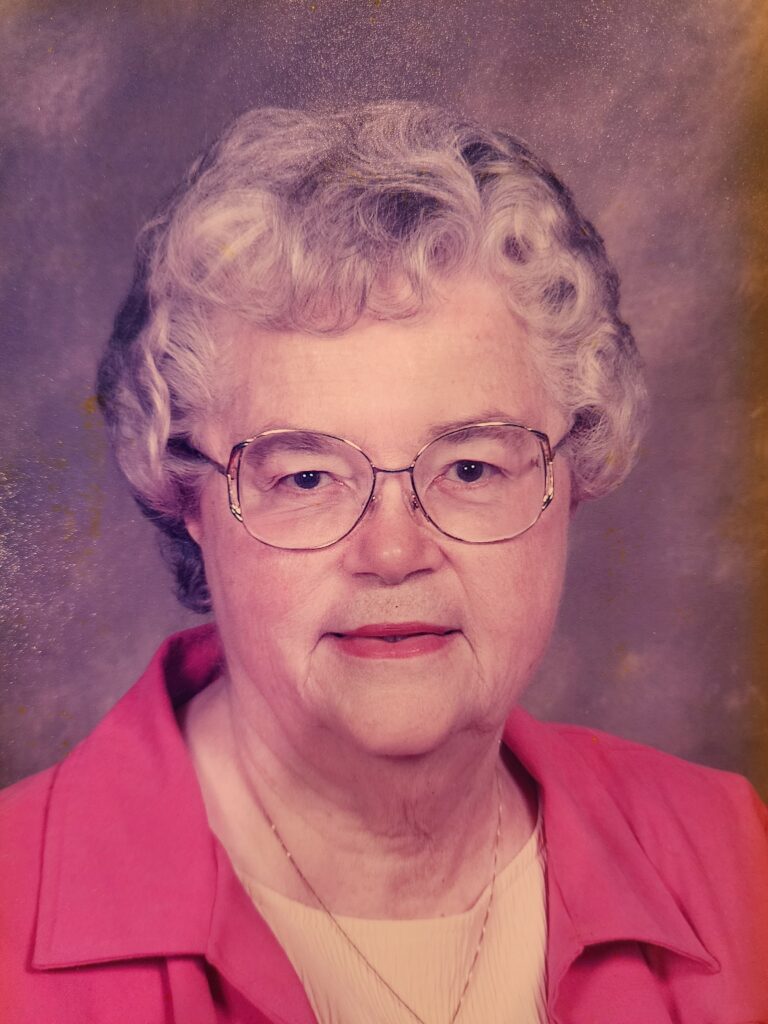 On Monday, April 3, 2023, God called home one of his faithful servants. On that day, Mary Louise Falks, surrounded by family and caregivers, joined her husband, Jim Falks, in the Kingdom of Heaven.
Mary Lou was born Mary Louise to Cecil and Beulah Houze in North Kansas City, Missouri on September 5, 1930. She was the first born of three girls. By all accounts she was a caring and responsible big sister to her siblings.
Her family moved to El Cajon, California when Mary Lou was nine years old. Mary Lou often described adventures from her childhood with her younger sisters. From spending hours together reading at the library across the street from their house, to camp-outs with Girl Scouts, to spotting planes in WWII for the U.S Air Defense. The sisters remain close and their families have stayed close as well.
Mary Lou met her husband, Jim Falks, when he was stationed in the Navy in San Diego. They had a whirlwind romance and she married him when she was seventeen years old. Jim was a Texan, and as a good Texas' son he had to get back home. After the war, Jim got out of the Navy and they relocated to Alice Texas. The couple had four children, Jim, Joe, Carol, and John and lived on the South East Side of San Antonio for almost forty years.
In San Antonio, they were active members of Hot Wells Baptist Church. It was during this time that Mary Lou discovered her passion for volunteer work. She served as a leader and teacher for the Women's Missionary Union (WMU), Girls in Action (GA's), school PTAs, and was an Alamo Area Council of Girl Scout Troop Leader & Council Administrator among many other programs.
In the early 1990s Jim and Mary Lou moved to Kenedy to take care of an aging family member. They moved from the big city to a farm just miles from the First Baptist Church of Kenedy which became their home church for the rest of their lives. She spent many years as a volunteer in the church library and for the WMU.
At eighty years old, a widow and alone out on the farm, Mary Lou decided to moved to town and be closer to her church community. During this time in her life she held prayer meetings, church training sessions, and monthly WMU meetings in her new home for members of the congregation. Mary Lou's contributions to her church community were many.
Mary Lou is survived by her children, Jim Ed and wife Deborah, Joe Mark and wife Ann, Carol Ann and husband Jim, and John Kevin and wife Linda. Her sisters, Helen and Marguerite ,
fifteen grandchildren, nineteen great-grandchildren, and one great-great-grandchild. She is preceded in death by her parents Beulah and Cecil, her beloved Jim, and two grandchildren, Ashley Amber and Jarrett Blaine.
Visitation will be Friday, April 7, 2023 from 5PM to 7PM in the Eckols Funeral Home Chapel. Services will be held at the First Baptist Church Saturday, April 8, 2023 at 10AM with the Rev. Matt Singleton officiating. Interment will follow in the New Bremen Cemetery.
Serving as Pallbearers: Viveca Falks, Ethan Falks, Jonathan Falks, Joshua Falks, Jeff Falks, Justin Falks and Brian Lowther.
Memorials may be made to the First Baptist Church Kenedy, St. Jude's Children's Hospital or Exclusive Home & Hospice, Inc. of Beeville, TX.