Abel M. Rivera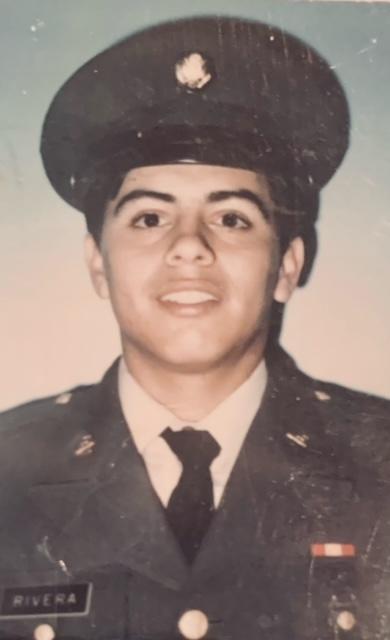 Abel M. Rivera was born on July 12, 1950 in Caro, Michigan, and passed away on March 31, 2023 in Kenedy, Texas, at the age of 72.
He is survived by his daughters Betty Jo Blietz (Gerad), Bobbie Jo Rivera (Robin Thienpont), Jennifer Rivera (Zeke Lopez)and Melanie Monroe (Jesse).
Grandkids, Kamiryn Blietz, Jackson Blietz, Phoenix Lopez, Daryn Thienpont, Maddoux Lopez, David Cardenas, Dylan Cardenas and Jordan Monroe. Sisters, Sandra Rivera and Leticia Lerma, brothers, Rudy Rivera, Timothy Rivera, Joe Rivera, Daniel Rivera and Gilbert Rivera and numerous nieces and nephews. He was preceded in death by his parents, Lucy Maciel Rivera and Rudy Rivera, brother Ricardo Rivera and niece Gabriela Lerma.
Abel was the oldest of nine children. The son of migrant workers, he was born in Michigan, where his parents worked in the strawberry fields. He would work those same fields growing up, going back and forth between Michigan and Texas. Abel attended school in San Antonio, Texas. After graduating from Edgewood High School, he was drafted and served in the United States Army during the Vietnam War; earning the National Defense Medal and Sharp Shooter (Rifle) distinctions.
In 1970, he married Mary Lou Sanchez. Together they had 4 daughters.
Abel, like many veterans, battled his demons, but in good times, he enjoyed hanging out with his friends, playing tennis, rock-n-roll, cook outs and of course, dogs. Mostly self-employed, his work varied in the service industry from auto towing to carpentry. Later in life, he only needed the daily newspaper and a taco. If he wasn't cheering on the Dallas Cowboys or the San Antonio Spurs, he usually rooted for the underdog. The family would like to thank the staff at Kenedy Health and Rehabilitation for all their care and support these last four years.
Graveside Services will be held at Fort Sam Houston with Military Honors on Thursday, April 13, 2023 at 1:30 P.M. in San Antonio, TX.