Maria De La Rosa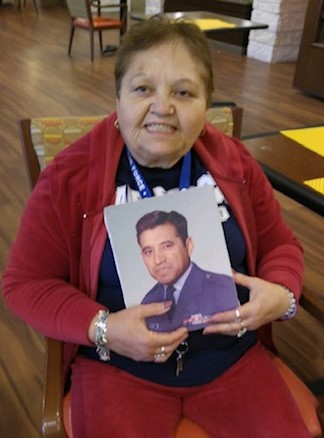 Maria DeLaRosa was born, April 13, 1947 in Choate, Texas and was 75 years old when she went to be with the Lord on, March 31, 2023. Maria was raised in Pawnee and Kenedy, Texas. She later married and moved to San Antonio, Texas.
She is preceded in death by her husband Juan DeLaRosa, her parents Crucita Chapa Reyna and Gabriel Chapa, Sr. and her brother Gabriel Chapa, Jr..
She is survived by her three beloved children; Santos A. DeLaRosa (Caroline) of Corpus Christi, Texas, Diane Castellano (Scott) of San Antonio, TX, Rebecca DeLaRosa (Efren) of San Antonio; grandchildren, Santos A. DeLaRosa, Jr. (Stephanie) of Cuero, Texas, Eric S. Castellano, Isaac S. Castellano, Angelica N. Castellano of San Antonio, Texas; step-grandchildren, Efran Ledezma, Jr. of Elmendorf, Texas and Jimena Devora of San Antonio, Texas; two great-granddaughters, Abigail A. DeLaRosa ,Ava A. DeLaRosa of Cuero, Texas; brothers, Andres Chapa (Janie) of Edna, Texas; sister, Soila Vasquez (Gilbert) of Karnes City, Texas; sister-in-law Maria Guadalupe DeLaRosa of San Antonio, Texas and also survived numerous nieces and nephews.
A Holy will be recited Friday April 14, 2023 at 7:00 P.M. in the Eckols Funeral Home Chapel. Funeral Mass will be celebrated Saturday, April 15, 2023 at 10:00 A.M. at Our Lady Queen of Peace Catholic Church with Rev. Robert Ploch officiating. Interment will follow in the Loma Alta Cemetery in Kenedy, TX.