Dominga Garcia Rodriguez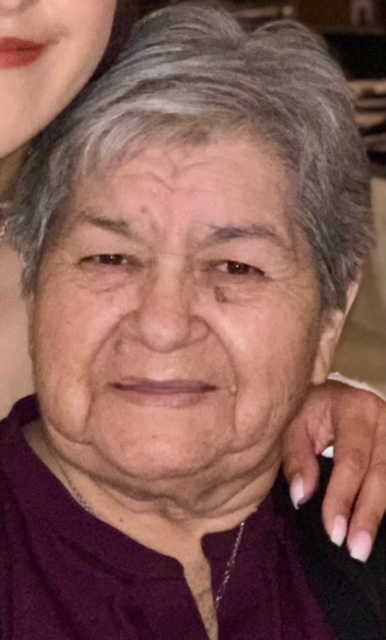 Dominga Garcia Rodriguez, Age 84 of Kenedy, TX passed away January 2, 2023 surrounded by her loving family. Dominga was born on October 9, 1938 in Helena, TX to the late Lorenzo and Paula Rivas Garcia. She married Guadalupe Rodriguez, Sr. on August 23, 1960 who preceded her in death. She retired as a head cook for the San Cristobal ranch; was a homemaker, loving wife, mother, grand-mother, great-grandmother, aunt, sister, a member of Our Lady Queen of Peace Catholic Church who will dearly missed.
She is preceded in death by her husband, Guadalupe Rodriguez, Sr.; parents, Lorenzo and Paula Rivas Garcia; daughter, Patricia Rodriguez Serna; grandson, David Rodriguez and a sister Maggie Garcia.
She is survived by her daughters, Paula Rodriguez of San Juan, Sylvia Martinez of Kenedy, Norma Rodriguez of Kenedy, Nancy Rodriguez of Victoria, Elisa Rosales of Victoria, Estella Medina of Victoria, Sandra Rodriguez of Victoria, Sara Rodriguez of Kenedy; sons, Guadalupe Rodriguez, Jr. of Victoria, Gilbert Rodriguez of Kenedy, David Rodriguez of Kenedy, Jesse Rodriguez of Kenedy, Roberto Rodriguez of San Diego, CA; sisters, Maria Louisa Garcia of New Mexico, Maria Elena Guzman of Houston, numerous grandchildren, great-grandchildren, extended family members and many dear friends.
A Holy Rosary will be recited Sunday, January 8, 2023 at 7PM in the Eckols Funeral Home Chapel. Funeral Mass will be celebrated Monday, January 9, 2023 at 10AM at Our Lady Queen of Peace Catholic Church with the Rev. Robert Ploch officiating. Interment will follow in the Loma Alta Cemetery in Kenedy, TX.