Rosita Puentes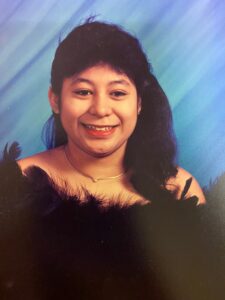 Rosita Puentes of Beeville, Texas was born on February 20, 1973 in Goliad, Texas to the late Valentine Puente and to  Juanita Cantu Puentes passed away on  Wednesday, April 13,2022  surrounded by family at the age of 49 years old at Hacienda Oaks Nursing Home in Beeville.
Rosita had worked for GEO for over 32 years.
She is preceded in death by her father: Valentine Puentes.
She is survived by her mother: Juanita Puentes; her common-law spouse: Ruben Rodriguez of Beeville, TX; sisters: Juanita Puentes, Leandra Puentes, and Mary Ann Puentes; brother Valentine (Josephine) Puentes of Kenedy, TX; sister-in-law: Jennifer Rodriguez and other relatives.
Visitation will be held on Monday, April 18, 2022 from 3:00p.m. to 9:00p.m. at Eckols Chapel.
A Prayer Service will be held on Monday, April 18, 2022 at 7:00p.m. at Eckols Chapel with Priscilla De Los Santos officiating. Services to conclude in chapel.
It was Rosita wishes to be cremated and her cremated remains to be placed at the foot of her fathers grave. Private inurnment at a later date.
Flowers welcome.