Geraldyne Edna Spencer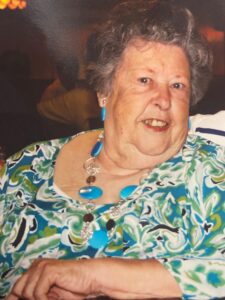 Geraldine Edna Spencer, age 88, passed away Sunday, February 13, 2022 in the hospital in Kenedy. Born in Oakville, Texas August 13, 1933, Geraldyne was the daughter of Henry and Nora Humphries.  She lived in Kenedy since 1949 and was married to Joe Ben Spencer on April 11, 1953. Geraldyne worked as a bookkeeper for many years and attended the Assembly of God Church. After retirement, her days were spent enjoying coffee and visits with friends, the company of her family whom she cared for greatly and worshipping with her brothers and sisters in Christ.
She is preceded in death by her parents, Nora and Henry Humphries; her spouse, Joe Ben Spencer and her son, Christopher Scott Spencer (stillborn).
Geraldyne is survived by her sister and brother: Maynette Anderson and Charles (Punch) Humphries; sons: Jerry Spencer and Benny Spencer; daughter: Denise Staudt; grandchildren: Drew Spencer, Christy Martinez, Diana Nelson, and Lori Spencer; great-grandchildren: Kelly Spencer, Leah Spencer, Sage Geraldyne Spencer, Jacob Martinez, Matthew Martinez, Micah Spencer, Liam Spencer, Corbin Spencer, and Regan Spencer; as well as numerous nieces, nephews, and extended family members.
The family will receive friends for visitation on Monday, February 21, 2022 from 10:00a.m. to 12:00p.m. with Funeral Services beginning promptly at 1:00p.m. at Eckols Chapel. Interment to follow in Kenedy Cemetery. Pallbearers: Ronny Hahn, Jeff Hahn, Kenny Hahn, Mike Humphries, Will Martinez, and Ken Reiley.