Bobbie Erlene Bonner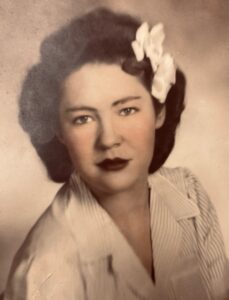 Bobbie Erlene Bonner, Age 94 of Runge, TX passed away on February 19, 2022 in Yoakum, TX. Bobbie was born on May 3, 1927 in Electra, TX, to the late William David "Buck" and Sallie Murehead Vestal. She was a loving wife, mother, Granny, Great-Granny, and Great-Great Granny. She graduated from Electra High School in Electra, Texas. She worked for and, after many years of dedication, retired from Walmart in Kenedy, Texas. She was a devoted and dedicated member of the Church of Christ in Runge, TX, where she will be greatly missed.
She is preceded in death by her loving husband, Earl Weldon Bonner of 63 years; parents, William David "Buck" and Sallie Murehead Vestal; daughter, Cristy Bonner-Todd; siblings, Jack Vestal, James Vestal and Peggy Griffith.
Bobbie is survived by her sons, Joe Mark Bonner of Runge, TX;
William Storey Bonner and wife Linda of Robstown, TX;
Son-in-law Reynolds Todd of Alice, TX;
Granddaughter, Shannon Magnus (John), of Alice TX, and their children, John Kyle Magnus (Elizabeth), Lebanon, IN, Amber Setliff (Dylan), Corpus Christi, TX, Desiree Monsevais (Jon), San Diego, CA;
Granddaughter, Storie Dawn Sharp (Mickey), Glen Rose, TX, and her children, Michael G. Sharp, Glen Rose, TX, Dawsyn E. Sharp (Colt), Marble Falls, TX;
Grandson Spencer Braune (Pat), of Alice, TX, and their children, Shilo Garcia (Josh), San Antonio, TX, Lisa Garza, Alice,Texas, Rosendo Garcia (Lori), San Diego, TX, Ruben Gomez (Noemi), Yoakum, TX;
Grandson, William Weldon Bonner (Melissa) of Robstown, TX, and his children; Jaid A. Bonner (Preston), Hearn Texas, Bryndle L. Bonner, Navasota, TX, Bradlee E. Bonner, Navasota, TX;
Granddaughter, Lacey Elizabeth McGuire (Sean) of Louisburg, KS and her children Sean Michael, Kael, Emma, Ian, Sam;
Former daughter-in-law Cindy Bonner , Louisburg, KS.
She is also survived by eight Great-Great-grandchildren, Karsyn Vasquez, Josiah Garcia, Aubrianna Setliff, Shawn Monsevais, Blake Rice, Tommie Gomez, Jazzy & Corey Garcia.
Graveside Visitation will be held Thursday, February 24, 2022, from 9AM to 10AM with Graveside Services beginning promptly at 10AM followed by interment in the Runge Cemetery with Larry Elliot officiating.
In Lieu of Flowers, memorials may be made to the South Texas Children's Home, P.O. Box 1210, Beeville, Texas 78104-1210.