Rachel Ann Carrillo Vera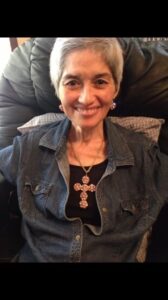 Rachel Ann Carrillo Vera of Pettus, Texas was born on October 13, 1963 in San Antonio, Texas to Domingo Carrillo and Esperanza De Los Santos Moreno passed away on December 17, 2021 in Beeville, TX at the age of 58. Rachel is preceded in death by her beloved mother, Esperanza De Los Santos Moreno, stepdad Paul Moreno and an infant son, Luis 30-06 "Bullet" Vera.  She is survived by her loving husband of 29 years who she married on Feb. 14, 1992: Luis Carlos Vera. She is also survived by her beautiful daughters: Jordan Hope Vera of Austin, TX, Sabrina Doe Vera of Pettus, TX, Ruby Red Vera of Pettus, TX, Erika Marie Vera of Alice, TX and Crystal Castillo of Alice, Texas; grandchildren: Elizabeth Grace Vera, Ariana Martinez, Pedro Martinez Jr. , Araceli Martinez, Gabriella Castillo, Daniella Castillo, and Raul Castillo Jr.; sisters: Abigail (Davis) Brown of Pawnee, TX and Deborah (Woodie) Carrillo Spivey of Boerne, TX; brothers: Joe Lee (Betty Jo) Carrillo of Tuleta, TX, J.D. (Annie) Carrillo of Pettus, TX, Steven Govea of Corpus Christi, TX, Marco (Jenny) Govea of McAllen, Joel (Analee) Govea of Kingsville, TX; and numerous nieces, nephews and other relatives. Visitation will be held on Wednesday, December 22, 2021 from 4:00p.m. to 9:00p.m. at Eckols Chapel with a Prayer Service beginning at 7:00p.m. at Eckols Chapel with Pastor Robert Charles officiating. Funeral services will be held on Thursday, December 23, 2021 at 10:00a.m. at Heavenly Gates Family Worship Center, 722 W. Refugio St, Runge, TX with Pastor Robert Charles officiating. Interment to follow in Runge Cemetery. Pallbearers: Matthew Carrillo, Austin Carrillo, Clay Brown, John Jacob Carrillo, Ethan Govea, Mikel "T" Spivey, Jarran Carrillo and Pedro Martinez Jr. Flowers and Funeral Donations welcome.
PER FAMILY REQUEST- PLEASE WEAR YOUR FACE MASK INTO CHAPEL FOR WEDNESDAY VISITATION AND WEDNESDAY PRAYER SERVICE!